Repeat offender caught with illegal eels on south coast
A commercial fisher on the NSW south coast has been caught trying to illegally export $15,000 worth of live eels. The Tathra man violated many state fishing rules. We congratulate NSW Fisheries for their investigative efforts and hope that the courts impose the deserved penalty and even jail time for this low act.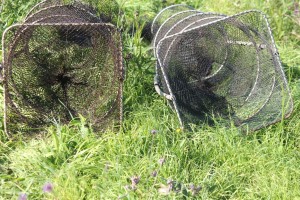 Eel traps used by the commercial fisher
The following information was released by the NSW Fisheries on Friday 9 May:
A commercial fisher has been apprehended in possession of hundreds of kilograms of eels on the far south coast of NSW, Department of Primary Industries (DPI) Director Fisheries Compliance Glenn Tritton said today.

"During a targeted patrol, fisheries officers apprehended a 61 year-old Tathra man offloading almost 700 kilograms of live eels to a truck allegedly owned by a Sydney based fish receiver," Mr Tritton said.

"The eels, illegally stored in a farm dam on a private rural property near Verona, were destined for the export market and had an estimated value of $15,000.

"The alleged offender is not allowed to store any eels in freshwater, farm dams or areas closed to commercial fishing.

"Officers seized seven eel traps, 589 kilograms of live Longfin eels and almost ten kilograms of live Shortfin eels.

"Another 88 kilograms of live eels, including four of a prohibited size, were also seized and subsequently released back into the waters of the farm dam.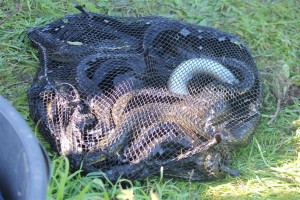 Some of the Eels stored illegally in a private farm dam

"Fisheries officers will allege that the man contravened the conditions of his commercial fishing licence, was in possession of illegal fishing gear, possession of fish illegally taken and had possession of undersize eels."

Mr Tritton said each of the charges carries a maximum fine of $22,000 and/or six months imprisonment.

"Earlier this year fisheries officers apprehended another commercial fisher illegally taking eels in freshwater and will continue to be vigilant to help maintain healthy and sustainable fisheries for future generations," Mr Tritton said.

"Property owners who are approached by persons claiming they are commercial fishers and are allowed to fish for eels in freshwater dams should ask for proof of the fishers permit issued by the Department.

"If landholders are just not sure, they can always contact their local fisheries office and speak with a Fisheries Officer."

Anyone with information about illegal fishing should contact the Fishers Watch phoneline on 1800 043 536 or make a report online at www.dpi.nsw.gov.au/fisheries/compliance