13 Fishing

About 13 Fishing

13 Fishing is a play on words of 13 being an unlucky number. As the motto states, they're all about making your own luck through the use of knowledge and flawless pieces of fishing equipment. 13 build light responsive strong fishing equipment that is designed and tested for your application. Their fishing products are tackle artistry, built for anglers who demand excellence at an affordable price.
The 13 Fishing philosophy is a good one. "Enjoy life outside and in, respect your fellow man and woman, always honour our precious fishing environment and its resources. Make your own luck." – The team at 13 live this philosophy.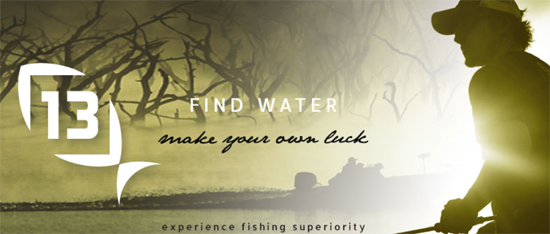 Every so often a company will come along and break the status quo. That is 13, they do things a bit differently. They want to change the fishing industry, and elevate it to a new and superior level. 13 sponsor our Online Fishing Tournaments with the highest of quality equipment and we're proud to be in alliance with them as a partner.
Click here to view 13 Fishing products that have just hit the market!