All Boats & Caravans Extravaganza July 4 & 5 Perth
It's on again! Perth's All Boats and Caravans' Extravaganza (FREE entry) begins 9am Saturday July 4th until 4pm Sunday July 12th. Expect to see massive savings on everything store wide (tackle included) including deals, discounts, bargains and competitions.
This is one event that all fishing, boating and caravaning enthusiasts cannot miss! The opening weekend will be filled with plenty of activities, competitions, raffles, spot prizes and info booths, as well as kid's entertainment including face painting & balloon twisting. There will be a sausage sizzle & refreshments available.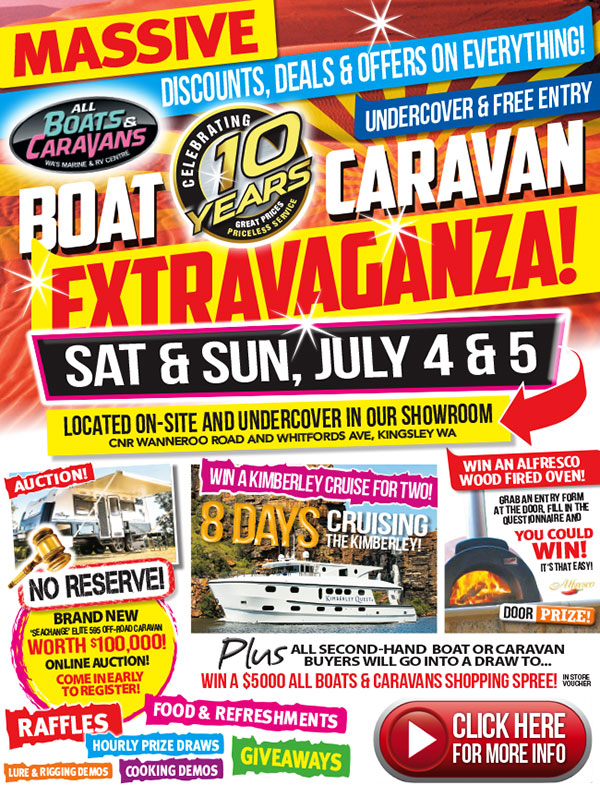 Here's just a few reasons why you can't miss the 2015 Extravaganza:
New boat & caravan buyers go in the draw to win a Kimberly Quest cruise for 2 (worth $20,000)
Used boat and caravan buyers go in the draw to win a $5,000 shopping spree at All Boats & Caravans (includes Tackle HQ)
NO RESERVE $100,000 caravan up for Auction
Winnebago & Adria caravan & motorhomes launch – NOT to be missed!
Suzuki repower promotion
Door prize competition win an Alfresco Woodfired pizza oven
Simulation fishing unit – try to catch a big one and win a prize
Baysport boats launched
Crazy specials on our caravan hire & boat school
Electronics display, demonstrations and talks
Rope Splicing and knot tying demonstrations
On the spot raffles & giveaways
Sausage sizzle & refreshments available & much, much more!!
For more information give All Boats and Caravans a call on (08) 9309 4200 or shoot them an email at: admin@allboatsandcaravans.com.au