April Fish Of The Month
Congratulations Cowan Wise for taking out the Get Fishing's Choice prize in our April Rapala Fish Of The Month Competition.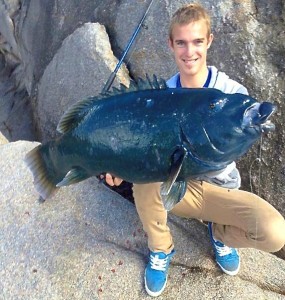 Cowan caught this massive 50lb Blue Groper off the rocks in Albany WA and has won himself a $150 prize pack consisting of a Rapala 3-in-1 backpack PLUS a Rapala Sportsmans Tackle Belt for his efforts PLUS he will have his photo featured on our homepage for the entire month of May. Cowan is also still eligible to win the People's Choice prize too.
Our People's Choice prize top 6 finalists have now been chosen and it's up to you to decide the winner.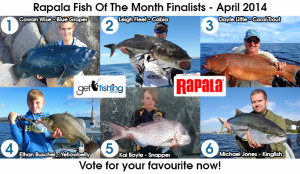 Visit our Rapala Fish Of The Month forum and vote for your favourite by commenting with the number of the photo you like best. Thanks to Rapala, the People's Choice winner will receive a Rapala Limited Series Lite Tackle Bag valued at roughly $50.
Thanks to all contestants for submitting your photos. There were many fantastic captures this month, some being more impressive than the finalists, but unfortunately many of the photos were iPhone pics of low resolution or out of focus. To be in with a chance your photo really needs to be of good quality.
Inevitably, what we look for in a photo is:
1) Size of the fish (relative to the particular species)
2) The story behind the capture
3) Quality of the photo
4) Effort involved
To view all of this month's entries click here.
Voting close 11:59pm AWST Sunday 4th May. Don't forget to submit your pics for the May comp!
For comp rules visit our Disclaimer page.