August Tournament Winners 2014
Thanks to each and every tournament member for participating in the first ever Get Fishing Australia-wide Online Fishing Tournament and congratulations to all winners. Our August tournament was the first of it's kind in Australia and overall was a huge success. It was amazing to kick-start this new Aussie concept with a bang and some of the fish weighed in were of exceptional quality. To view last months winners and this months target species head to the Leaderboard page.
Additional to the prizes given for the 20 species categories Aron Dixon and Robert Bigg were also winners. Aron picked up $50 cash in the 0-50cm Mystery Length category for his 29cm whiting. Robert also picked up $50 cash in the Ugliest Fish category for his red rock cod.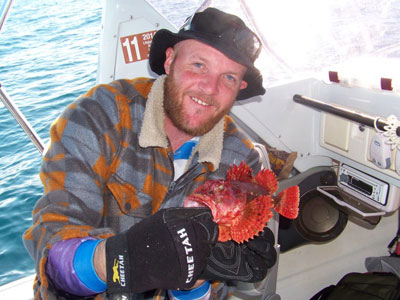 Robert Bigg: Winner of $50 cash for the 'Ugliest Fish' prize.
The September tournament is now in full swing and already we are seeing some nice fish being submitted. We've made a few adjustments to the prizes and species this month so please take note of the following:
Eligible species: To give you more to target we've grouped multiple species in some categories. For example we've combined Samsonfish, Amberjack, Kingfish and Cobia into one category, Seriola Sp./Cobia. For a full list of eligible species and to view this months fantastic prizes visit this months Prizes page.
WIN cash with Mystery Length: This month there are 2 x $150 cash prizes up for grabs. One randomly selected length between 0-50cm and one between 51-200cm. All fish entered automatically qualify. First person to enter a fish the right length wins $150 cash. So even if you see a bigger fish on the board don't worry you still have a shot at $150 cash or if you're feeling lucky $300 cash if you get both.
Tournament Codes: As many of you may have noticed we are no longer sending out emails with your tournament codes. We've developed a much smarter system where you can access your monthly code any time of the month from or website. Simply log in and head to the Tournament Codes page and your code will be displayed on the screen. You must be logged in to view this page.
Handy Hint: Many participants are either laminating their code or keeping them inside a zip-lock bag and stowing away in their bags so that they've always got it handy. There were numerous reports of people forgetting to take their codes with them and then going on to catch fish that would have been winners, including one report of a 130cm Kingfish! Suffice to say they won't be making the same mistake twice. 
If you like this new fishing tournament concept it would be great if you could help us out by telling your friends about it and getting them to become tournament members. Competing in tournaments gives you a buzz and when you can share that excitement with a mate it makes for some fun and interesting fishing with plenty of banter!
Congratulations again to our August champion anglers. Below is a collage of all the winners and their prize-winning fish. Click on the image to enlarge.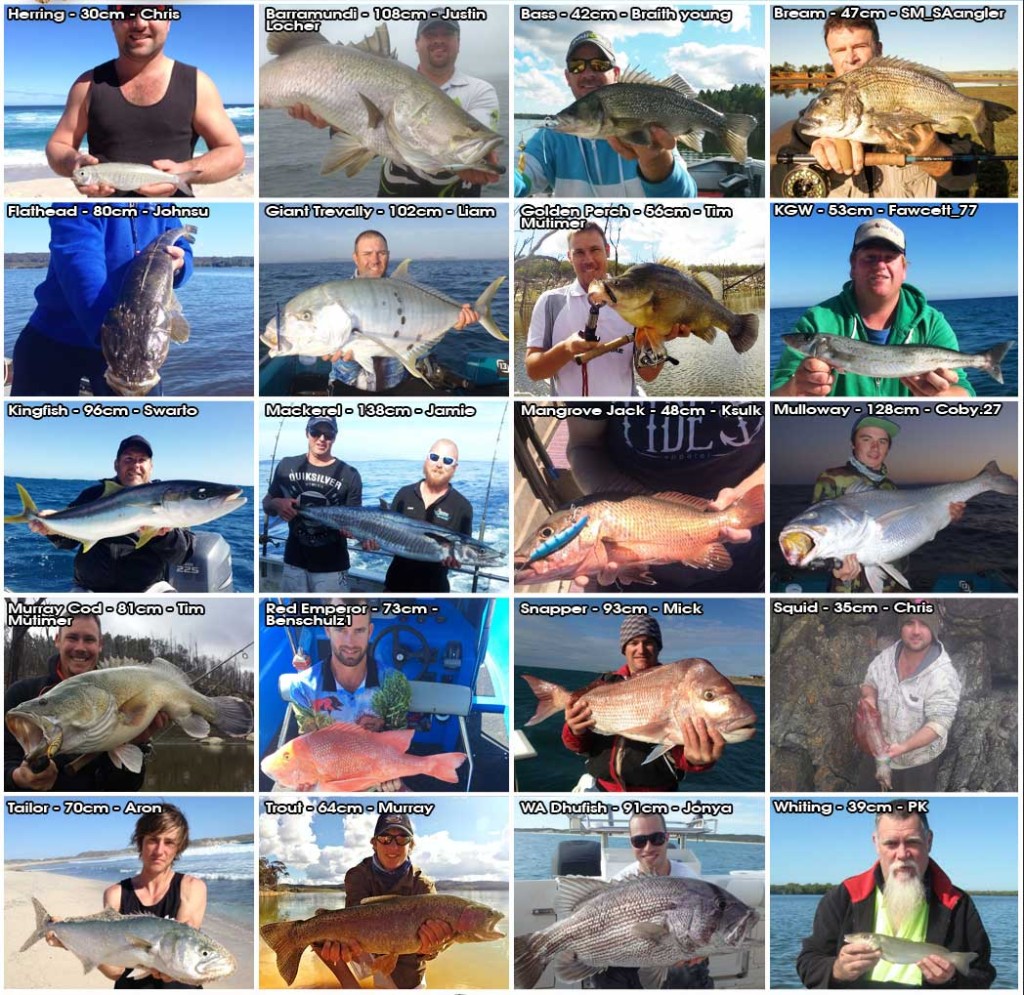 The Get Fishing Australia-wide Online Fishing Tournaments would not be possible without the support of our sponsors. We would like to finish this post with a huge thank you to our sponsors for their support of this new concept and their generosity in giving back to the Australian fishing community. Next time you are in the market for new tackle think of these following brands, the brands you see to the right and left of all of our website pages, and consider choosing their products as appreciation of their supply of hundreds of thousands of dollars worth of prizes to fishing tournaments around the country each year.