Blue Groper Speared on NSW South Coast
Blue Groper Seized in Surveillance Operation
Illegal fishers hoping to fool Department of Primary Industries' (DPI) fisheries officers got a nasty surprise when they were apprehended for illegally spearing a Blue Groper on the NSW south coast.
DPI Acting Director of Compliance, Tony Andrews, said the two men were fishing at Tura Headland, near Merimbula, late last year, under the covert surveillance of fisheries officers.
"It will be alleged that a 25 year old man from Monash in the ACT, speared the Blue Groper and then placed it on the fishing line of his companion, a 43 year old man from Gungahlin, in the ACT, who was fishing from nearby rocks," Mr Andrews said.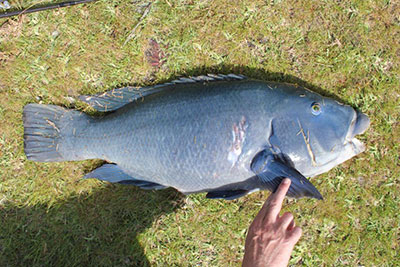 "The diver did this in an attempt to legitimise the capture because Blue Groper can only be taken by a fishing line. This shows that both men were calculated, deceptive and indicated knowledge of wrong doing.
"The men were apprehended as they attempted to leave and were found to have a large Blue Groper with a spear wound, measuring 76cm long and weighing 9.1kg in their possession.
"The 25 year old was issued with a $500 Penalty Infringement Notice for spearing a groper, and the 43 year old was issued with a $500 Penalty Infringement Notice for possessing fish illegally taken.
"Fisheries officers also seized all associated diving and fishing equipment.
"Blue Groper are protected from spearfishing and have been for many years, and anyone who spears, or has in possession a speared Blue Groper, will be prosecuted and subjected to seizure of equipment and heavy penalties, including a maximum penalty of $22,000 and/or six month in prison.
"Illegal fishers should be aware that DPI fisheries officers can be anywhere, anytime and are dedicated to protecting our precious fisheries resources."