Garmin ECHOMAP Ultra series has arrived!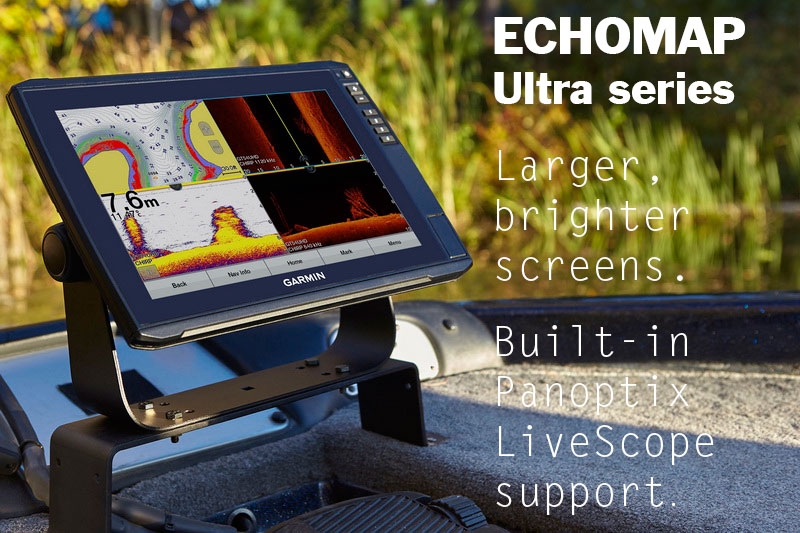 Garmin recently announced the ECHOMAP™ Ultra series, a new line of keyed-assist 10- and 12-inch touchscreen chartplotters designed to bring professional performance to inland and nearshore anglers. Offering a best-in-class sonar solution, the ECHOMAP Ultra series has built-in support for Garmin's crystal-clear Ultra High-Definition scanning sonar as well as the award-winning Panoptix LiveScope™ series, including the new single-array LVS12, that delivers live scanning sonar images of structure, bait and fish swimming below and around the boat in real time.

"ECHOMAP Ultra forges the DNA of our popular ECHOMAP Plus series together with premium features of our best-in-class GPSMAP® chartplotters, to deliver an exciting new series that brings professional performance to larger, more affordable display options," said Matthew Thomas, General Manager, Garmin Australasia . "These new chartplotters are the perfect solution for anglers who want the best sonar and mapping available, but still want the convenience of an all-in-one design that can be quickly installed and removed from the boat at the end of the day."


The ECHOMAP Ultra series is expected to be available in Q2 2019. The recommended retail prices are $2,999 for the echoMAP Ultra 105sv and $3,999 for the echoMAP Ultra 125sv.