Kids Fishing Tournaments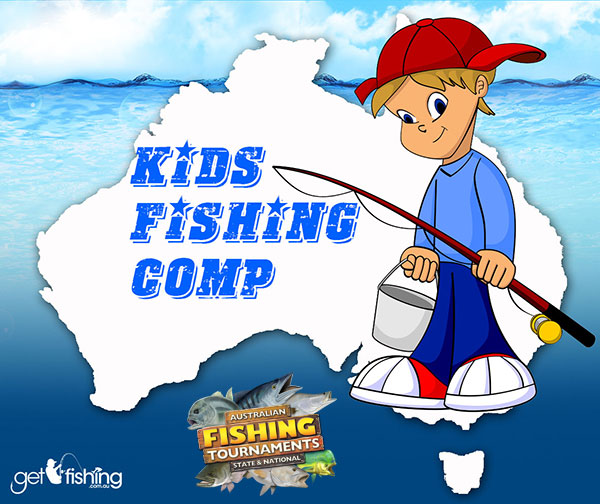 Kids it's time to Get Fishing! We are excited to introduce a national monthly Kids Fishing Comp to our list of Tournaments starting 1st September 2015. Hooks will be baited and drags will be screaming as hundreds of kids from around the country compete for 10 popular species each month.
Prizes from the biggest brands in the country will be awarded for the longest of each species, and winners will take home a minimum $50 prize pack and certificate for their efforts. For a full list of prizes head to Prizes page and click on the kids comp.
Kids are required to follow the same procedure of photographing their catch as adults and by competing in the tournaments agree to be bound by the tournament Rules and website Terms and Conditions. All of the information you need to compete is under the 'Tournaments' tab in the menu bar.
The comp is open to all kids aged 15yrs and under. Kids may also compete in our State and National tournaments.
We are offering kids FREE Standard 1 or 6 months Membership up until the 30th September, so take advantage of this awesome offer while it lasts. After the 30th September kids membership will be the same price of adults membership, and enable them to compete in all of our tournaments – Kids, State and National.
PLEASE NOTE: If you are an existing adult member and wanting to register your kids, you will need to create a new user account for each kid. This way everyone gets a separate monthly code and when they submit a fish their name will appear on the leaderboard. Please do not add them to your existing account or while logged in as you.
Kids under 15yrs can get their FREE membership before 30th September 2015 by selecting either the 1 or 6 month Standard Membership options on the Compete Now page and entering the following coupon code during checkout: kidsfree
We recommend you read through all of the information and watch the videos on the How It Works page before proceeding. During checkout is where competitors are required to create a new member account, so complete the appropriate fields and make sure you write down your username, email address and password for future reference. September tournament codes will be available to all members from 2am on the 1st, simply login and head to the Tournament Codes page to retrieve it.
Kids under 13 must have parent supervision when using the website or when competing in our tournaments. Members must be 18 years of age or older to purchase any product or membership, or otherwise be accompanied by a parent while doing so.
If you are a parent looking to register your kids the process is outlined on the How It Works page and should be pretty simple. If you get stuck or if you have any questions please visit our Contact Us page and get in touch. We also have a tournament-members-only Facebook group called 'Australian Fishing Tournaments', feel free to join the group after completing your tournament registration.
Each month the target species list will change slightly. Here's a list of kids target species for September:
Bream
Carp
Flathead
Golden Perch
Herring (tommy ruff)
Mullet
Snapper
Squid
Trout
Whiting
So what are you waiting for? Become a member today and experience the thrill and excitement of competitive fishing. Remember that winning prizes is a bonus but not everything. If you are outdoors and having fun then you are already winning. We wish you the best of luck, tight lines!