Lauren's Creamy Seafood Pasta
Lauren is a lover of all things food, and lets just say she knows her way around the kitchen. When it comes to seafood dishes, this is up there with her all-time favourites. Enjoy!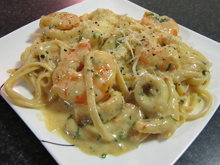 Ingredients
3 cloves of fresh purple garlic
Green king prawns (can add calamari and fish)
3 tablespoons butter
Chives
¼ cup shaved parmesan cheese
Fresh thickened cream
Salt and pepper
Fresh linguine pasta
1 tablespoon salt for pasta water
Instructions
1. Bring salted water for pasta to the boil
2. Melt butter over medium heat in large sauce pan. Then add garlic and cook for two minutes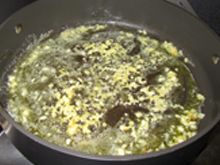 3. Add prawns and cook until pink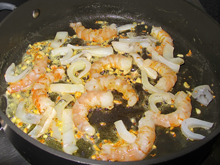 4. Add fresh pasta to boiling water. Follow packet for cooking time. Be sure to not overcook!
5. Add cream, plenty of parmesan, chives and salt and pepper to prawns
6. Add pasta to prawn and cream mixture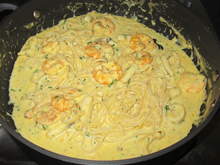 7. Serve immediately. Add cracked pepper, more fresh chives and shaved Parmesan on top
Extra notes
Also works well with seafood marinara mix
Can substitute chives with parsley