Lee Rayner's Fishing Edge to air on One HD
Broadcasting around Australia from October 2013
Black Run Productions in association with Creative Media, are pleased to announce an all new fishing program, hosted by well-known fishing personality Lee Rayner. Fishing Edge will be broadcast on One HD around Australia from Sat 26th October 2013 at 5pm.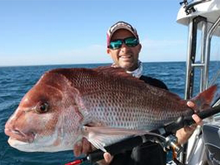 Lee Rayner is no new comer to television. Initially, Lee co-hosted 'Rex Hunt's Fishing Adventures' where he worked for 5 years until the program finished in 2004.
For the last four years Lee has hosted and co-produced the outdoors and fishing program 'Adventure Bound' which has been seen on Foxtel and other networks around Australia and New Zealand.
Fishing Edge is a true, down to earth fishing program that travels the length and breadth of Australia visiting some of the country's most remote and beautiful places.
In creating the Fishing Edge concept, Lee and series producer, Andrew Clark, have continued to build on the popular format which they developed on Adventure Bound over the past four years.
Fishing Edge places an emphasis on the DIY aspects of fishing and takes viewers on a journey to the locations featured. This certainly isn't the easiest way of producing a program like this, but the end result is a show that viewers can easily relate to and has proven to be very popular.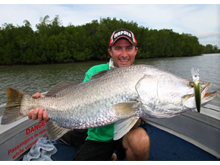 The first Fishing Edge series will showcase many fantastic locations around the country in pursuit of highly prized fishing species. Lee and the crew will chase everything from large off shore snapper out of Lakes Entrance Victoria, hard fighting long tail tuna at Port Stephens NSW, barramundi in the remote rivers of Melville Island NT through to big brown trout in the freezing conditions of the Snowy Mountains. Plus a whole lot more. It is a journey not to be missed!
For updates visit their Facebook page: Fishing Edge