Let there be fish! Sydney focuses on global initiative
Anglers from Sydney and NSW are invited to attend the free event 'Let there be fish'. The event will focus on the importance of Australian fish migration, the man-made structures that inhibit their migration, and the measures that can be taken to provide fish with safe passage around these barriers when they need to spawn. The event will be held on World Fish Migration Day, at Lane Cove Weir on the 24th May 2014.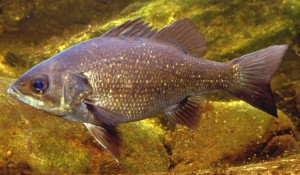 Australian bass, an iconic native species and popular recreational fishing target
The following information was released by the NSW Fisheries:
The Sydney fishing community is invited to attend Let there be fish!, a free event planned for World Fish Migration Day, at Lane Cove Weir on the 24th May.

Department of Primary Industries (DPI) Regional Officer Scott Nichols said World Fish Migration Day is a global initiative, co-ordinating local events worldwide to raise awareness of the importance of open rivers for migratory fish.

"Migration for fish is crucial to achieve healthy fish stocks, especially for Australian bass, which migrate from freshwater to estuaries to spawn, after which the adults and young then migrate back upstream," Mr Nichols said.

"Over half of the native fish species in Australia need to migrate at least once to be able to complete key stages of their life cycle."

"Man-made structures such as weirs, road crossings and floodgates inhibit the free passage for native fish, restricting their access to habitat within river systems.

"The Let there be fish! event will be held at the fishway that has recently been installed on Lane Cove Weir, to demonstrate the benefit it will bring for this iconic native species.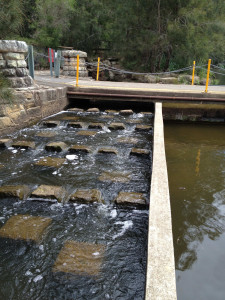 The Lane Cove Weir fishway

"The fishway shows the importance of healthy functioning fish habitat, and the contribution it provides to all fishers and the general community.

Mr Alan Izzard, Bass Sydney Fishing Club Environmental Project Officer said that fishways such as this at Lane Cove have also helped scientists learn more about fish movements.

"Since the fishway was installed our catch and release records show an increase in fish numbers upstream, confirming the important role open rivers play in sustaining native fish species" Mr Izzard said.

Let there be fish! features informative talks and a walking tour of the Lane Cove Weir fishway and habitat restoration site. A free BBQ lunch will also be provided.

The event begins at 10.00am at the National Parks offices, Lane Cove Weir in the Lane Cove National Park.

Let there be fish! is a joint event by DPI, Bass Sydney Fishing Club, NSW National Parks and Wildlife Service and the Fish Habitat Network.