Marinated Gummy Shark
We don't promote the taking of too many sharks, but if you're shy of a feed or have one that won't release, here is a recipe that's great for neutralising the strong flavour.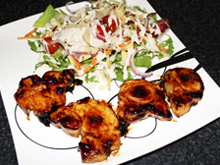 Ingredients
Gummy Shark cutlets
Soy sauce
Hoisin sauce
Sweet chili sauce
Honey
Garlic, chopped
Cooking oil
Instructions
1. In a large glass or ceramic bowl, mix sauces, garlic and honey. The amount of each sauce is totally up to you depending on personal taste and amount of shark you intend on using. Just make enough marinade to cover shark cutlets in the bowl. A few garlic cloves and a couple of tablespoons of honey are usually adequate.
2. Place marinade in the fridge for half an hour. Use this time to prepare a nice salad or vegetables to accompany the cutlets
3. Heat large fry pan with a couple of tablespoons of oil to med-high
4. Cook the cutlets until the marinade begins to caramelize and the cutlets have cooked through
5. Serve with a side of chips, salad or steamed vegetables
Extra notes
Remember to dispatch sharks humanely and immediately after capture. Remove the head, fins, and guts once the shark is dead to help drain the blood and ammonia taste from the flesh
It's best to let the shark cutlets marinade in fridge for at least 30 minutes. However, if you don't have time it will still taste good
This recipe is intended to be pretty simple. Tweak it to your taste, add some extra ingredients and let us know how it goes