National Hall Of Fame – 2014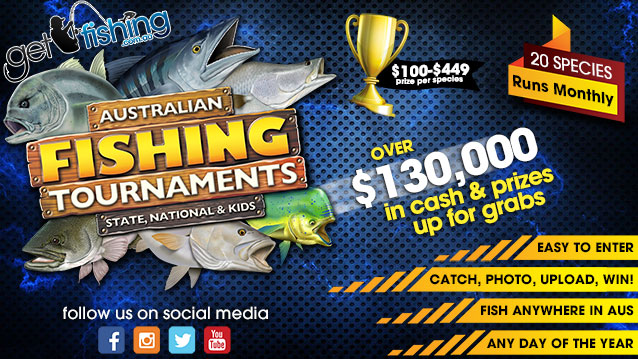 Below are the record holders for the longest fish caught in our 2014 Australian National Fishing Tournament.
Measurements are fork length and state refers to where fish was caught.
If two fish are the same length then highest ranking is given to the fish caught first.
---
LONGEST OVERALL FISH

1st Place: Ben Gross | Mulloway | NSW | 140cm
2nd Place: Daniel Pittaway | Mulloway | SA | 140cm
3rd Place: Kaelum Gannon | Mulloway | NSW | 139cm
4th Place: Daniel Harvey | Kingfish | SA | 133cm

5th Place: Shane Wolhuter | Mahi Mahi | QLD | 130cm

AMBERJACK

1st Place: Khanh Ta | QLD | 98cm
2nd Place:
3rd Place:
BARRAMUNDI

1st Place: Callum Peek | QLD | 129cm
2nd Place: Jason Henrich | QLD | 124cm
3rd Place: Braith Young | QLD | 121cm
BASS

1st Place: Rob Barrett | QLD | 50cm
2nd Place: Steve Starling | NSW | 49cm
3rd Place: Rob Barrett | QLD | 49cm
BLACK DRUMMER

1st Place: Darrin Clarke | NSW | 52cm
2nd Place: Darrin Clarke | NSW | 50cm
3rd Place: Darrin Clarke – NSW – 47cm
BLACK JEW

1st Place: Justin Locher | QLD | 128cm
2nd Place: Liam Pascoe | QLD | 125cm
3rd Place: Coby Pascoe | QLD | 125cm
BREAM

1st Place: Daniel Harvey | SA | 45cm
2nd Place: Anthony Hicks | NSW | 44cm
3rd Place:  Shane Mensforth | SA | 43cm
CARP

1st Place: Wade Atkinson | SA | 76cm
2nd Place: Samual Green | ACT | 67cm
3rd Place: Wade Atkinson | SA | 67cm
COBIA

1st Place: Jamie Brown | WA | 118cm
2nd Place: Andrew Cole | QLD | 115cm
3rd Place: Scott Clarke | WA | 98cm
CORAL TROUT

1st Place: Jonathon Masel | WA | 74cm
2nd Place: Jason Haack | WA | 69cm
3rd Place: Justin Locher | QLD | 67cm
EMPEROR

1st Place: Jason Oosthuizen | QLD | 73cm
2nd Place: Ben Schulz | QLD | 69cm
3rd Place: Jay Barker | QLD | 67cm
ESTUARY PERCH
1st Place: Glen Rollason | NSW | 44cm
2nd Place: Glen Rollason | NSW | 42cm
3rd Place: Avon Rollason | NSW | 40cm
FINGERMARK

1st Place: Coby Pascoe | QLD | 87cm
2nd Place: Jason Henrich | QLD | 85cm
3rd Place: Mitchell Wright | NT | 70cm
FLATHEAD

1st Place: Kim Richter | NSW | 92cm
2nd Place: Justin Stayt | NSW | 90cm
3rd Place: Bryce Francis | QLD | 88cm
GOLDEN PERCH

1st Place: Brock Stewart | NSW | 65cm
2nd Place: Tom Shaw | VIC | 64cm
3rd Place: Jock Baker | VIC | 64cm
GRUNTER (JAVELIN)

1st Place: Liam Pascoe | QLD | 73cm
2nd Place: Liam Pascoe | QLD | 67cm
3rd Place: Braith Young | QLD | 59cm
HERRING (TOMMY RUFF)

1st Place: Chris Biddulph | WA | 26cm
2nd Place: Chris Biddulph | WA | 24cm
3rd Place: Chris Biddulph | WA | 24cm
KING GEORGE WHITING

1st Place: Karl Povah | WA | 53cm
2nd Place: Aaron Burge | WA | 52cm
3rd Place: Matt Fawcett | WA | 50cm
KINGFISH

1st Place: Daniel Harvey | SA | 133cm
2nd Place: Mick McCallum | SA | 117cm
3rd Place: Daniel Pittaway | SA | 116cm
MACKEREL

1st Place: Jamie Brown | WA | 126cm
2nd Place: Jason Henrich | QLD | 123cm
3rd Place: Des Seres | QLD | 114cm
MAHI MAHI

1st Place: Shane Wolhuter | QLD | 130cm
2nd Place: Toby Francis | NSW | 103cm
3rd Place: Shane Wolhuter | QLD | 101cm
MANGROVE JACK

1st Place: Des Seres | QLD | 59cm
2nd Place: Justin Stayt | NSW | 56cm
3rd Place: Braith Young | QLD | 56cm
MULLOWAY

1st Place: Ben Gross | NSW | 140cm
2nd Place: Daniel Pittaway | SA | 140cm
3rd Place: Kaelum Gannon | NSW | 139cm
MURRAY COD

1st Place: Daniel Pittaway | VIC | 125cm
2nd Place: Josh Duncan | NSW | 114cm
3rd Place: Jack Mann | NSW | 87cm
NANNYGAI

1st Place: Damian McKenzie | QLD | 74cm
2nd Place: Justin Locher | QLD | 71cm
3rd Place: Tyson Hortop | SA | 43cm
REDFIN PERCH

1st Place: Adam Townsend | NSW | 43cm
2nd Place: Adam Townsend | NSW | 42cm
3rd Place: Joe Press | NSW | 35cm
SALMON

1st Place: Matt Beckmann | SA | 76cm
2nd Place: Beau Saludra | WA | 69cm
3rd Place: Robert Bigg | NSW | 58cm
SAMSONFISH

1st Place: Matt Fawcett | WA | 104cm
2nd Place:
3rd Place:
SNAPPER

1st Place: Brett Mensforth | SA | 91cm
2nd Place: Matt Fawcett | WA | 86cm
3rd Place: Mick McCallum | SA | 85cm
SOOTY GRUNTER

1st Place: Jason Henrich | QLD | 50cm
2nd Place: Jason Henrich | QLD | 50cm
3rd Place: Ben Schulz | QLD | 46cm
SQUID

1st Place: Daniel Dowley | NSW | 40cm

2nd Place: Drew Egan | NSW | 37cm

3rd Place: Chris Biddulph | WA | 35cm
TAILOR

1st Place: Jeremy Jasinski | WA | 83cm

2nd Place: Daniel Pittaway | SA | 78cm

3rd Place: Pete Berlinski | WA | 66cm

THREADFIN SALMON

1st Place: Braith Young | QLD | 81cm

2nd Place: Kenny Howell | QLD | 67cm

3rd Place: Braith Young | QLD | 63cm
TREVALLY

1st Place: Chris Henry | QLD | 116cm

2nd Place: Chris Henry | QLD | 115cm

3rd Place: Leigh Fleet | QLD | 107cm
TROUT

1st Place: Murray Stewart | NSW | 63cm

2nd Place: Richard Gear | NSW | 62cm

3rd Place: Tony Robertson | TAS | 61cm

TUNA

1st Place: Scott Gaskell | SA | 98cm

2nd Place: Shane Humphrey | QLD | 81cm

3rd Place:
WA DHUFISH

1st Place: Jonathon Masel | WA | 91cm

2nd Place: Jamie Brown | WA | 85cm

3rd Place: Brodie White | WA | 83cm

WHITING

1st Place: Brian Mah | QLD | 42cm

2nd Place: Anthony Kloczko | NSW | 42cm

3rd Place: Paul Kenderick | QLD | 41cm