New 303® Range has your Marine needs Covered
Easy to apply, never leaving the surface glossy or oily, resisting the build-up of dirt and mould and overall protection against UV attack, the 303® Protectant and cleaner range has got all your marine needs covered.

Setting the industry standard for UV protection on virtually any surface, 303® Protectant™ is a product first created for the aviation/aerospace industry to protect rubber and plastics against UV and ozone degradation. Additionally the 303® range of specialised cleaning products have been designed and formulated to be used on a wide-range of surfaces including all types of rubber, vinyl, plastic, fabric and leather materials whilst 303® Fabric Guard™ is the recommended fabric protection by Sunbrella, the world's largest manufacturer of outdoor and weather resistant materials.
Regular use of 303® Aerospace Protectant™ provides 100% prevention against slow-fade caused by UV. It is non-toxic, silicone free and biodegradable providing long term protection. 303® Aerospace Protectant™ prevents drying and cracking and keeps rubber, vinyl and plastic items pliable and supple, thus maintaining or restoring lost colour and lustre. Applications for this product include boat covers, inflatable boats, hulls, rails & fittings, fishing gear, wet suits, clear vinyl windows, vinyl and finished leather upholstery, steering wheels and water sports equipment.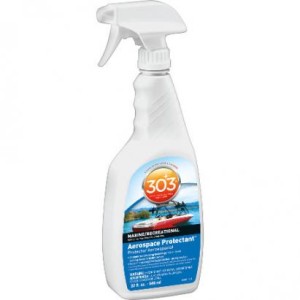 Providing the perfect way for a quick touch up between polishes is the 303® Speed Detailer™. This product offers an easy, effective and safe way to clean, brighten and protect all hard surfaces. It removes dust and fingerprints and will not streak or haze and with no abrasives it will not scratch surfaces.
303® Multi Surface Cleaner™ is a powerful concentrated cleaner delivering spectacular results, even on the heaviest cleaning jobs. It lifts and suspends oil, grease and dirt which can then be easily wiped or rinsed away. With a multiple of applications 303® Multi Surface Cleaner™ safely cleans, brightens and rejuvenates all water safe indoor and outdoor fabrics, carpet, tiles, benches and upholstery. It has no caustic chemicals or solvents, it is residue free and rinses away completely.
For a localised spot cleaning job, an additional product in the range, the 303® Spot Cleaner™ can be used to safely remove even the most difficult stains including, oil, ink, grease, wine, dirt and blood on all water safe surfaces including carpet and fabrics.
303® Fabric Guard™ restores lost water and stain repellency to factory new levels.  It stops leaks, resists soiling, protects against both water-based and oil-based stains and impedes mildew formation. It is safe for use on the finest fabrics, keeping them looking great and extending their life.
The 303® Protectant and cleaner range, marketed exclusively in Australian by Trico Products, is available from all leading marine and automotive parts outlets.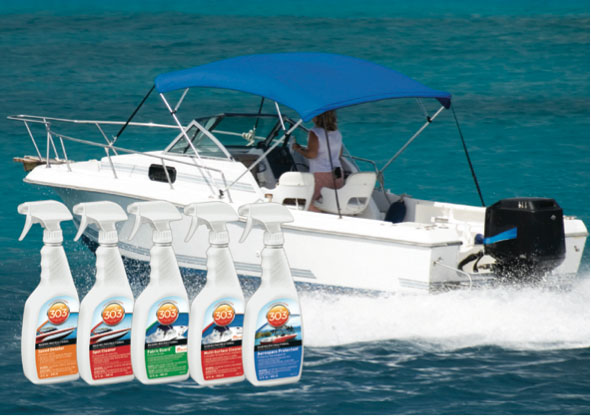 For more information visit the 303 website at: www.303products.com.au or call 1300 698 742.