October Tournament Winners 2014
Our October fishing tournament is now over and we would like to thank all tournament members who participated and congratulate all of the winners. The October tournament was in full swing from the get go, with many fish being weighed in on the first day of the competition and by the end of the month the Leaderboard was bulging at the seems with respectable fish. To view last months winners and this months target species head to the Leaderboard page.
Below is a collage of all the winners and their prize-winning fish. Click on the image to enlarge.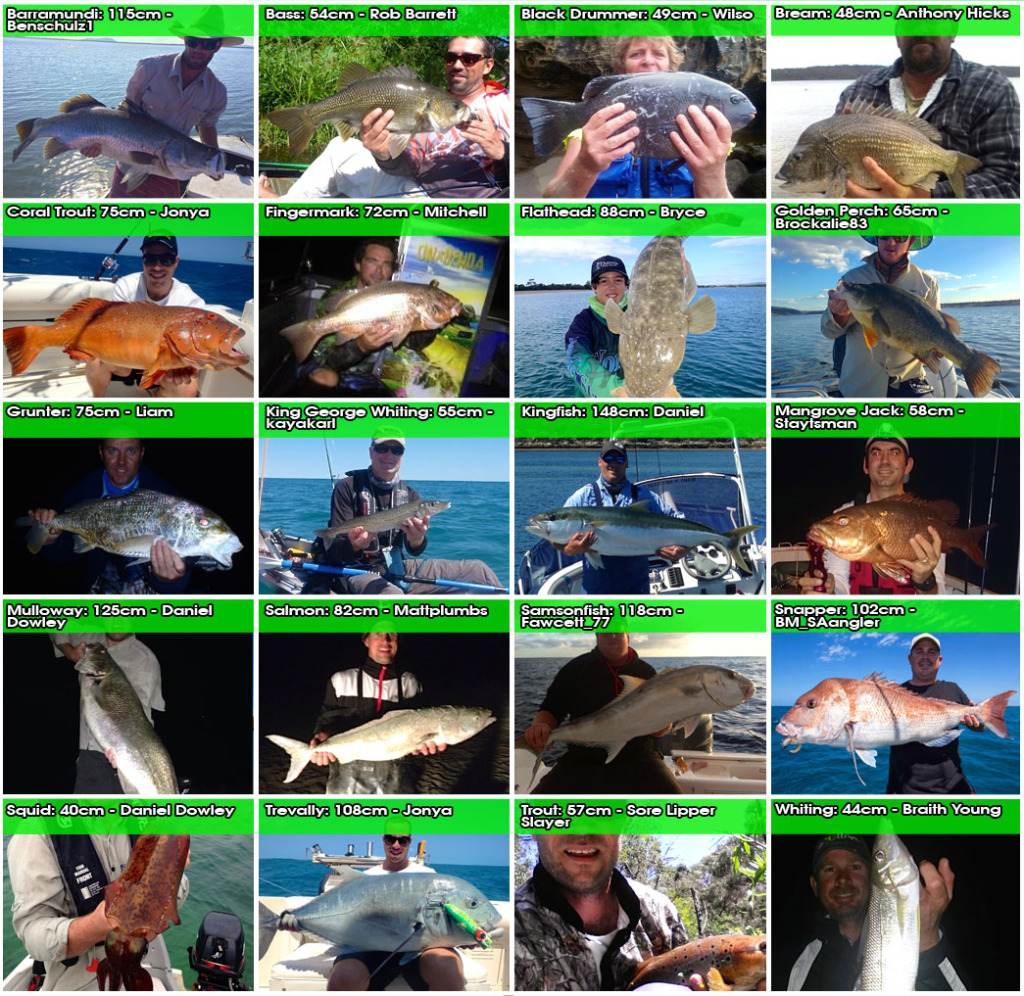 Additional to the prizes given for the 20 species categories Mick McCallum from Tumby Bay in South Australia was also a winner. Mick picked up $150 cash in the 0-50cm Mystery Length category for his 41cm King George Whiting. Mick weighed in half a dozen nice KGW on the first day of the month and little did he know that one of the fish was a Mystery Length winner. The second Mystery Length in the 51-200cm category was not caught. The lucky number was 123cm.
Mick McCallum: Winner of $150 cash for his 41cm Mystery Length King George Whiting.
For those people who don't often cross paths with big fish we have some great news for you! This month the Mystery Length prize has been replaced with a Lucky Draw prize. At the end of the month three lucky anglers will be drawn at random to win $150, $100 or $50. Each fish you submit gives you one entry in the draw. The more fish you submit the better chance you have at winning and the fish don't even have to be big! So get out there, Get Fishing and enter as many fish as you can! If you are not yet a member and want to compete in this month's tournament click here to join. You can join anytime during the month.
The November tournament is now underway and already we are seeing some nice fish being submitted. Be sure to check in regularly and see what fish you are up against. This will help you plan your next outing if you think there is a particular fish on the board that you think you can beat. Don't forget to take your tournament code and camera with you to photograph as many eligible captures as you can. Each month we see a couple of relatively small fish on the board that go on to win prizes and we hear the familiar story "I caught a fish bigger than that but didn't think it had a chance". You've got to be in it to win it, and with $300-$449 prizes at stake you'd be mad to miss out.
For those that have found the website a bit slow in the past you might have already noticed that pages are now loading significantly faster. On Monday 3rd November we changed servers to an Australian host and as a result we are now experiencing lightning fast page load times up to 20 times faster than previous. Submitting your catch should now be a breeze and flicking through pages should be seamless.
In other news Get Fishing has been nominated for Kochie's Business Builders' $100K Rescue My Site competition and we need you to help by giving us your vote! It only takes 5 seconds to vote and if we win GetFishing.com.au will receive a $25k makeover.
Please click the image below and help us win this competition: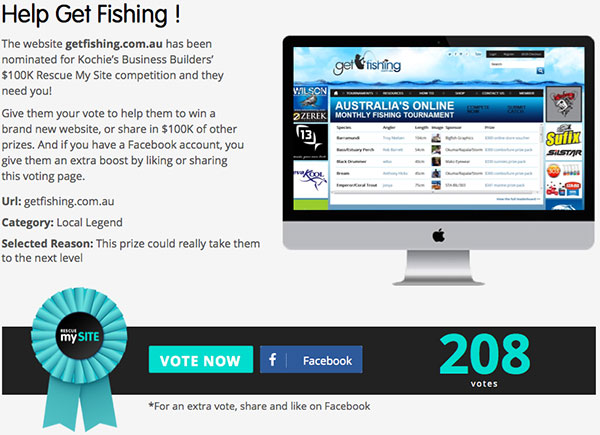 If you are loving this new fishing tournament concept it would be great if you could help us out by telling your friends and getting them to become tournament members too. Competing in tournaments gives you a buzz and when you can share that excitement with your mates it certainly spices things up on the water as you attempt to outfish each other!
The Get Fishing Australia-wide Online Fishing Tournaments would not be possible without the support of our sponsors. We would like to take this opportunity to once again thank our sponsors for their ongoing support and commitment to this new-age fishing competition.