Description
DREAM CATCHER 3 Fishing Kayak - normally $1,030 now only $499

Tough and lightweight kayaks designed for Aussie anglers.
For PICKUP ONLY from Tweed Shop.
For the Perth range of products click here. For the Brisbane range of products click here. 
We deliver this product to anywhere in QLD, NSW or VIC. For a delivery quote call us on 0422 686 363.
Dream Kayaks have sold over 4,000 of these craft. Fishos LOVE them because they are everything you need at an affordable price.
WHAT YOU GET:
The Legendary 'Dream Catcher 3G' Fishing Kayak
FREE! Deluxe seat
FREE! Ultra-light sports paddle
FREE! Swivel rod holder
FREE! Four flush-mount rod holders
FREE! Tackle box
PLUS!
FREE! Upgrade to 28-cm hatches
FREE! Upgrade to Deluxe Reinforced Seat
MAIN FEATURES:
STORAGE: Huge 9-inch hatches!
CAPACITY: Tested at 130kg
STABILITY: Super Stable. 81cm Wide

WEIGHT: Lightweight craft at 21kg
ROD HOLDERS: 4 x built-in flush-mount rod holders & 1 x swivel-mount rod holder
MOTOR-READY: An extra $69 gets you a custom motor bracket
OTHER FEATURES:
Dimensions: 270cm long, 81cm Wide, 28cm high
Made of UV resistant, high-grade polyethylene for strength & durability
Strong V-hull front and rear (rear one acts as rudder)
Moulded-in metal bolt inserts at rear for attaching motor bracket, anchor bracket or rudder
Plentiful leg room (122cm)
Large rear storage well (40 x 44cm; with secure bungee straps)
Quality drain with base plate for durability
Five foot positions
Carry handles at front and rear attached to reinforced plastic ridge
Paddle holding straps and carry handles on both sides
Side carry handles bolted into moulded-in metal inserts for super strength
Built-in Bottle Holder
Six scupper holes with drain plugs
LOGOS:
Some Dream Catcher 3 kayaks come with a permanent Dream Kayaks logo on the side, and some don't. This is luck of the draw.
PAYMENT:
Pay by PayPal or Credit Card using our secure checkout. Once we have processed your order we will call to arrange pickup.
ONLINE ONLY:
Dream Kayaks is a purely online business. They have no shop and no showroom. Because of this we can provide you with quality fishing kayaks at extraordinary value. Check out all the info on this page, watch the video and look over the pictures.
PICK UP:
Pick up is FREE. See instructions at the bottom of page.
For the Dream Catcher 3, Pick-Up is available from Tweed warehouse.
The warehouse is open for pick-up 10am to 4:00pm weekdays and 10am to 2:00pm Saturday.
COLOURS:
11 Awesome Colour Schemes! See images below or click through images at top of page.
Colour availability may change without notice.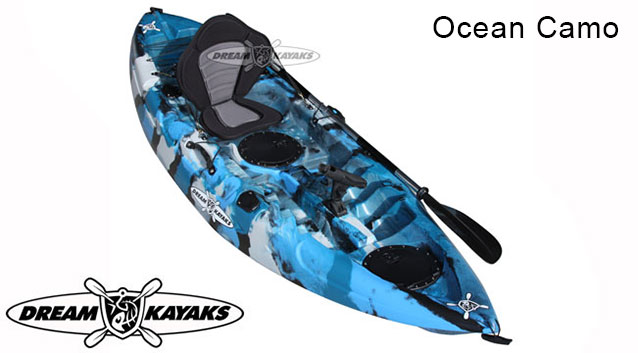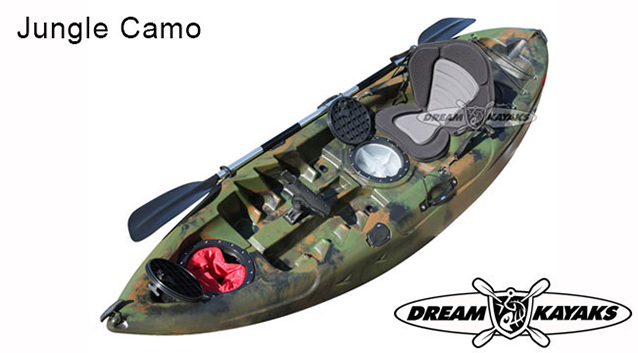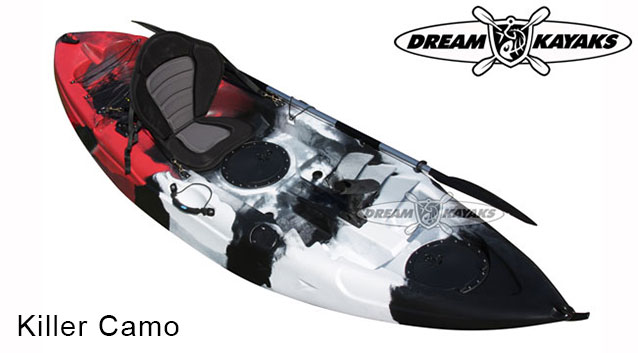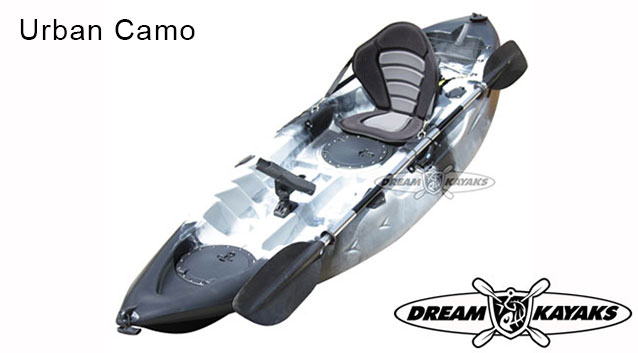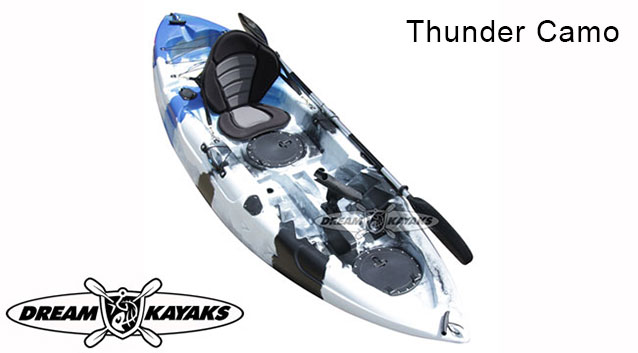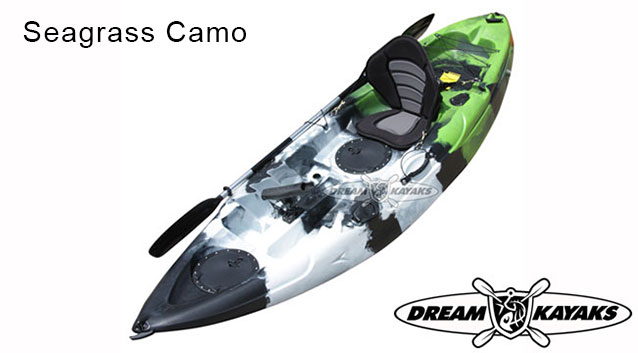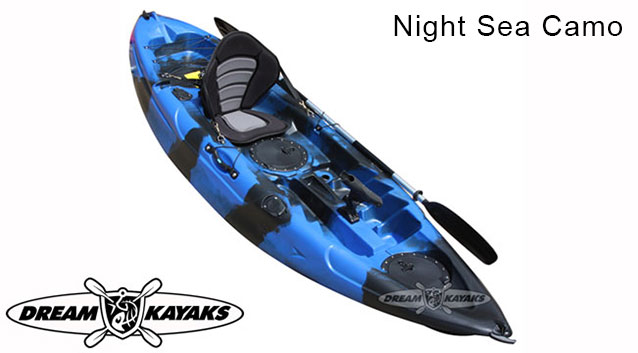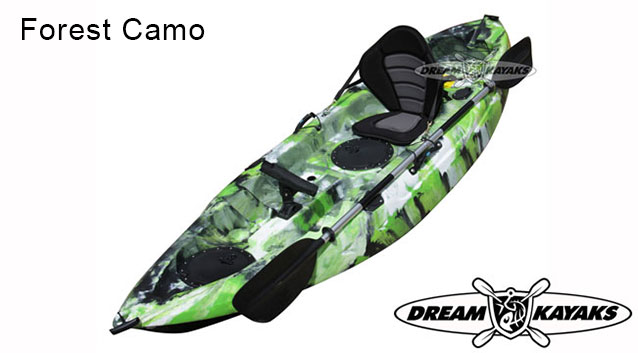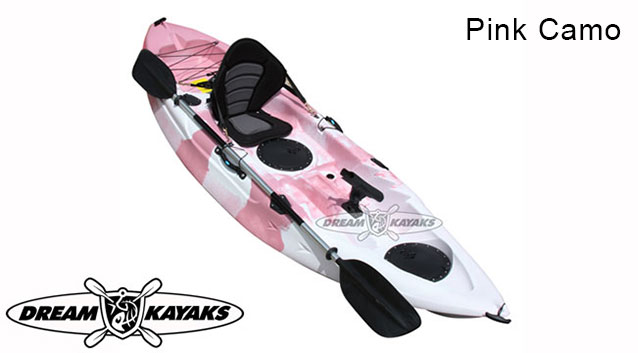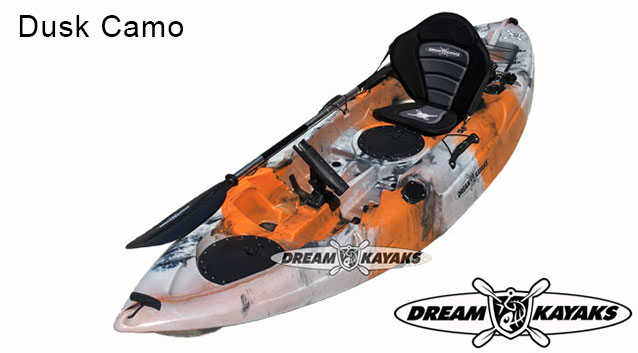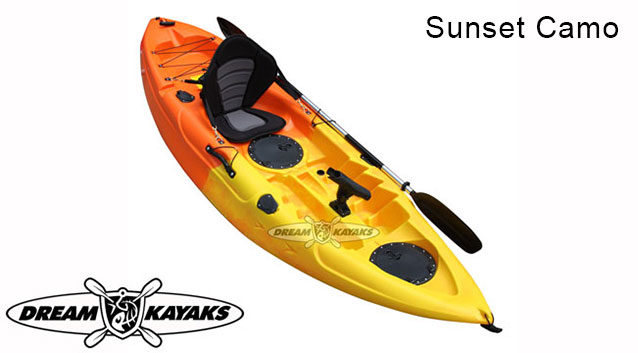 ---
PICK UP INSTRUCTIONS:
Dream Kayaks have warehouses in Brisbane, Perth and the Gold Coast (Tweed Heads).
When you buy a kayak you can choose to collect it from any warehouse, subject to availability. Warehouse collection is FREE.
They use 3rd party warehouses with strict rules on collection. If you want to pick-up from one of the warehouses the process is as follows:
1) You order the goods online and pay via credit card or PayPal
2) You tell us when you will collect
3) We provide address & pick-up instructions
4) You go to the warehouse at the time arranged and collect
If you arrive at a warehouse after its closing time, you will NOT be able to collect. If you arrive early you may have to wait.
To collect your kayak you need the following:
• Photo ID matching your order name
• Suitable roof racks or trailer/tray
• Ropes and/or straps for tying your kayak down
If anyone other than yourself is collecting please provide their full name well in advance, or they will not be given the goods.
PLEASE NOTE: When you collect goods from one of our warehouses, it is YOUR responsibility to make sure you leave the warehouse with the correct items. This includes, but is not limited to, the following:
• The correct model of kayak(s) or goods
• The correct colour goods
• All accessories including free ones
If you contact us after leaving the warehouse to tell us you are missing a seat, or that you got the wrong colour kayak, for instance, we cannot help you without charging a fee. This is because we use a 3rd party warehouse who charge us for all work done. This is the only way we can provide you kayaks at these incredible prices.
---
*This kayak is designed for use on flat water - kayaking can be dangerous and can result in injury or death.