Southern Bluefin Tuna Seized at Portland VIC
Three recreational fishers have had their catch confiscated by DEPI fisheries for exceeding their catch limit for Southern Bluefin Tuna. The men had 10 Southern Bluefin in possession, well above the allowed 6 between them. The men were also found to be in possession of a commercial lobster pot. 
This sort of behavior is frowned upon by most recreational anglers who do the right thing and adhere to the designated bag limits. Southern Bluefin Tuna provide a high yield of flesh per fish, are best eaten fresh, and a bag limit of 2 fish is more than enough to feed your immediate family and friends (depending on size) plus have a few feeds stored away in the freezer. It is particularly disgusting to see the level of greed displayed in this instance considering this species is highly vulnerable to over fishing.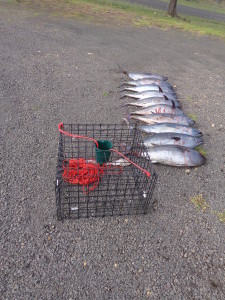 The following information was released by DEPI VIC Fisheries:
Three men were detained by Fisheries Officers at the Portland boat ramp on Anzac Day last Friday in relation to allegedly exceeding the catch limit for southern blue fin tuna.
DEPI Regional Fisheries Officer Paul Millar said a search of their boat allegedly revealed 10 southern blue fin tuna and an amateur lobster pot.
"The men were questioned regarding allegedly exceeding the catch limit for southern blue fin tuna and possessing commercial fishing equipment.
"All the tuna and the lobster pot were seized," he said.
"It is expected the men will be summonsed to appear at Portland Magistrate's Court later this year."
Mr Millar reminded anglers to be aware of the difference between southern blue fin tuna and albacore and adhere to the legislated catch limit of two southern blue fin tuna and five albacore.
"The vast majority of tuna and albacore anglers understand their target species and adhere to catch limits.
"Southern blue fin tuna is a Victorian priority species with specific catch limits and albacore [distinguished from southern blue fin tuna by their long pectoral fin] often school together and are caught at the same time."
Mr Millar said inspections of tuna/albacore anglers will continue throughout the season.
He reminded anyone with any information about the illegal take of these species or any other illegal fishing offences is urged to contact the 13FISH hotline on 133 474.