Stella Comp Winner + Site Update
Congratulations Benny Cappleman of Bullsbrook WA, the winner of our lucky member launch competition. Benny's name was drawn from over 1200 contestants and was rewarded for his luck with a brand spanking new Shimano Stella SW 5000XG valued at $1049, kindly provided by Bluewater Tackle World Scarborough.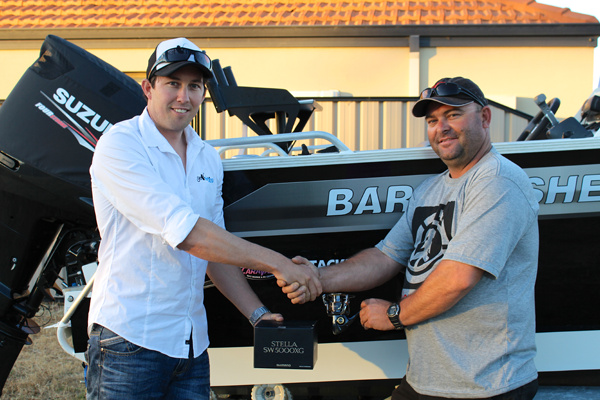 The Stella competition prize was drawn on Sunday 1st December online at randompicker.com. To view the result click the icon below:
Since Benny happened to live in WA and about 1 hours drive from the Get Fishing office we decided to pay him a visit and hand-deliver the prize ourselves. Benny was stoked with his new Stella and kindly invited us in for a couple of beers. We spent the next couple of hours talking fishing with Benny, his wife and his brother Craig, also a mad keen fisho. The three of them live an hour away from the nearest boat ramp, but they are as mad-keen as it gets. It turns out the reel couldn't have gone to a better, more deserving bloke. Two months prior, Benny and Craig were in a local tackle store together when Craig had bought himself a new 10,000 Stella SW. Benny was spewing because he had always wanted one but couldn't afford it. The past year has been tough for Benny and he didn't think his luck was going to change. The only thing he had ever won in his life was a twin-tape deck stereo back in the day. So you can imagine what he said when his wife got our email and told him he had won something. His exact words cannot be repeated here but they were along the lines of..
'Get out of here…what bastard would do this to me?'
His wife insisted that he had won, and alarm bells started to ring.
"It's not a reel is it?" he asked. "Yes it is" his wife replied. "It's not a Stella is it?" Again she replied "Yes it is".
Benny instantly jumped on the phone and called us to confirm it wasn't a prank. Needless to say he was over the moon that he had won, and rightly so.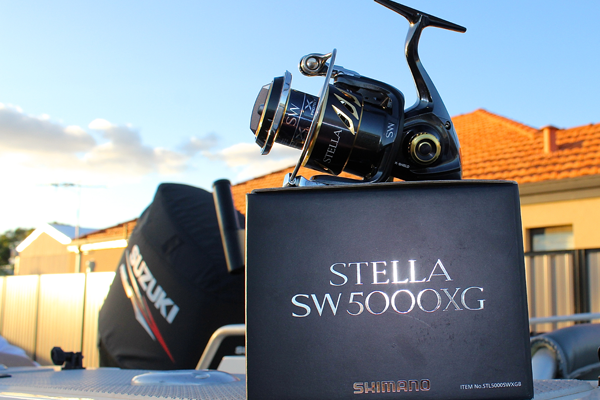 Once again, congratulations to Benny on his win. As you can see the new reel is right at home atop his brother's Bar Crusher. Lets hope this win signifies the change of luck Benny needed.
We would like to take this opportunity to extend a big thank you and welcome to all new members that joined our online fishing community over the last 3 months since we launched the site. We look forward to providing you with the content to keep you entertained when you're not out fishing and to help push your fishing to the next level.
Our forums is an area of the site that we would like to see an increase in activity. If you have any cool videos, pics or questions you would like to share or ask feel free to get involved. Likewise, if you have any used fishing gear you need to sell you can post it in our buy & sell for the whole country to see, it's easy and it's free.
You may be wondering what's new and what's coming in the near future? One new feature of the site is our custom designed one-of-a-kind Fish Identification Tool, there's seriously nothing quite like it on the web. If you happen to catch a fish and are not quite sure what it is, simply select the fishes' characteristics from the drop-down boxes, press 'search' and the tool will filter our database. Fish that match your criteria will be shown below and you can click through and learn about that particular species. We will be running a competition in the new year to increase the species in our database so stay tuned for that.
Also new this month is the introduction of our 'Photo Of The Month Competition' sponsored by Rapala. The competition is now active for December, so if you happen to catch a cracking fish this month be sure to submit your photo for a chance to win a new Okuma RTX Pro spin reel valued at $199. Each month the prize will vary. The winner will not only win an awesome Rapala prize, they will also have their photo featured on our homepage for the entire next month as bragging rights. To Enter the competition, simply upload your photo in the 'Photo Of The Month' forum with a title and a short description about the fish and how you caught it. Photos will be judged on quality of the fish as well as quality of the photo.
We've also been working on a project that is set to be one of the biggest features of the Get Fishing website, a totally interactive fishing map of Australia with hundreds of fishing spots (incl coordinates), dive spots, boat ramps, fishing-related businesses and more! Each spot tells you a whole heap of info about what you can expect to catch and how to go about catching them, along with Google street view so you can suss out the spot by getting a 360 degree view of the location before you go there. Users will also be able to submit their own spots to share with others. We'll be launching this awesome new feature as early as next week. So if you'd like some new spots to fish these holidays stay tuned and keep an eye out for the Get Fishing 'Fishing Spots Map' here or on our Facebook Page.