Tuross Head Flathead and Bream Tournament 2016

Date: 12th – 13th March 2016
Location: Tuross Heads, NSW
Where: Tuross Head Country Club

Entry Cost: $110
Prizes: $6,000 in fishing prizes and loads of lucky angler draw prizes including a $4,000 Native Watercraft Kayak.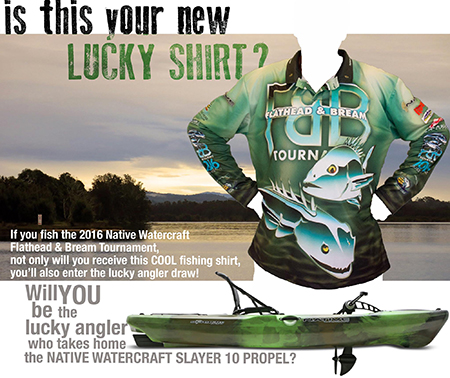 Description:
FRIDAY NIGHT AT THE COUNTRY CLUB (11th March)
Full briefing will occur at the Tuross Head Country Club at 8pm.
At this briefing, angler bags and Tournament shirts can be collected from 6-8pm.
Late entries may not receive their shirt until after the competition.
Several lucky angler draws will occur between 7–9pm.
The restaurant is open from 6pm, bookings are advisable or sausage sandwich type meals can be purchased down stairs in the briefing area. A Courtesy Bus will operate from 6 pm Friday, 4pm Saturday & 3pm Sunday. Please phone 4473 8186 to book the bus and/or reserve your table.
SATURDAY & SUNDAY FISHING RULES (12th & 13th March)
Angler Key Tags can be collected from the Boatshed Café from

6:30am

onwards each morning

(Coffee & Breakfast will be available for sale, at this time). These Tags must be produced when measuring a fish at any official station or clearly visible in the photograph on the brag mat supplied.

Angler Key Tags must be returned to the Boatshed Café no later than 10 minutes after the close of each day's competition hours

. Failure to do so will result in a 20% penalty per each 30 minutes late.

Fishing competition hours will be 7am–5pm Saturday and 7am–3pm Sunday.

Photographed fish can be verified and recorded on Saturday until 5pm at the Boatshed Café or 6pm at the Tuross Head Country Club, and Sunday until 3pm at the Boatshed Café or 3:30pm at the Tuross Head Country Club. Verification will close at 3:45pm sharp on Sunday at the Country Club.

Any flathead over 70cm and/or any bream over 40cm or a tagged fish caught must be measured, recorded & verified by a Tournament marshals. Once the fish is landed, call the marshals on

0417 280 580

. No fish in this category will be measured 15 minutes after close of fishing. Any fish over this size, not sighted and measured by officials, will not be considered eligible.

Fish under these limits should be photographed clearly, showing overall length with Angler Key Tag on the brag mat supplied. Flathead are measured to the tip of the tail; bream are measured to the fork of the tail.
The boundaries for this event are the Tuross River and its tributaries. The eastern boundary is as detailed on the map supplied. Fishing outside this boundary will result in disqualification. Official competition measuring stations are boats on the lake, which will come to you once we receive your call. If mobile is not operable, proceed directly to the Boatshed Café, without causing undue stress to the fish. Dead fish will not be considered under any circumstances. Coila Lake is not included in the Tuross River system.

All fish must comply with NSW fishing regulations to be eligible for measuring.

Lure and fly fishing only

. Bait & burley are NOT permitted. This is a catch & release tournament. All fish must be released in healthy condition to be eligible. It is the angler's responsibility to ensure the survival of the fish. Again, dead fish are not eligible.

There are three main prize categories. Longest Flathead, Longest Bream and Longest Total Bag (4 fish = 2 flathead & 2 bream).

In the event of a tie for Longest Fish, the fish recorded at the earliest time will be the winner. This will be the time recorded by an official at the time of measuring.

In the event of a tie in the Longest Total Bag category, the person with the longest overall single fish will be the winner.

Biggest two flathead & biggest two bream is your target on both days. Maximum two fish of each species will be recorded for each entrant per day.

Tuross River system has various speed regulations. Please be aware of these rules and follow them accordingly. Maritime authorities are aware of the Tournament taking place and may be present over the duration of the competition. It is the responsibility of each competitor to hold a valid NSW Recreational Fishing Licence, if required. All NSW Maritime boating regulations must be adhered to.

ALL ENTRANTS must adhere to the new life jacket regulations. Be warned… Maritime officials will be present on the water.

The Competition Co-ordinator's decision is final.

All protests must be lodged to the committee one hour prior to the competition closing. Protests lodged after this will not be considered.
NOTE: The Boatshed Café will take phone orders, so your food is ready when you arrive at the deck. Menu is supplied in your Angler Bag. They also have a good range of tackle & marine products. Phone your orders through on 4473 8127.
SATURDAY NIGHT DINNER AT THE TUROSS HEAD COUNTRY CLUB
Your entry fee includes The Competition Halfway Dinner at the Tuross Head Country Club starting at 6pm.
During the dinner, the halfway leader board will be up and running along with Fishing Club promotions & lucky angler draws. With cash and prizes up for grabs, we suggest all entrants be present for this draw. There will be other giveaways throughout the night, along with your chance to win some great prizes.
SUNDAY PRESENTATION AT THE COUNTRY CLUB BARBEQUE AREA
Presentation will be held at 4pm, downstairs in the BBQ area on Sunday afternoon roast beef / Lamb rolls will be on sale during presentation. All prizes will be awarded at this time, along with raffle and many giveaways.
We look forward to another great fishing weekend in Tuross Head. Happy Fishing!

Link to Website: Tuross Heads Fishing Club