Western Australia – October 2015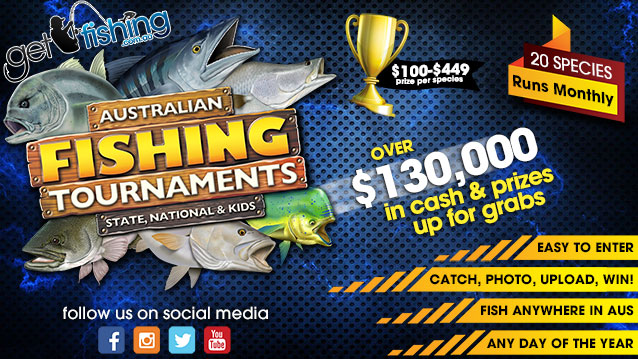 Below is a list of prizes and species for our October Western Australian State Fishing Tournament.
You may also like to compete in the Australian National Tournament and Kids Tournament (15yrs and under). Check out those pages too!
NOTE: some images may not depict the exact prize.
Barramundi

Sponsor: Bluewater Tackle
Prize: $100 voucher at Bluewater Tackle World Scarborough

Bream (includes all bream species + tarwhine)
Sponsor: Saltwater Charters
Prize: 50% off voucher aboard 'Interceptor' to the value of $125

Mackerel (includes all mackerel species)

Sponsor: Western Angler
Prize: 2-year Western Angler magazine subscription + $10 Get Fishing voucher ($100 value)

Mulloway

Sponsor: LOCO Lures

Prize: $100 prize pack. See www.locolures.com.au for the entire range

Samsonfish/Amberjack (includes samsonfish and amberjack)

Sponsor: Jigging Sports Australia
Prize: $100 prize pack of Jigging Sports assists

Squid (includes all squid species)
Sponsor: Bosch Blue Power Tools
Prize: >$100 Bosch Blue power tool selected at random


Tailor
Sponsor: Beyond Tools
Prize: $100 gift voucher at Beyond Tools Malaga


Trevally (includes all trevally species)

Sponsor: Compleat Angler Nedlands

Prize: $100 voucher at Compleat Angler Nedlands


Trout (includes all freshwater trout species)

Sponsor: Tackle HQ

Prize: $100 voucher at Tackle HQ Kingsley

Whiting (includes all species of whiting except King George Whiting)