Whiting and tailor stocks healthy, concerns over herring
Stock assessments of three nearshore finfish species, regarded as the lifeblood of the WA recreational fishing experience, have given the healthy tick to whiting and tailor but flagged concerns for Australian herring.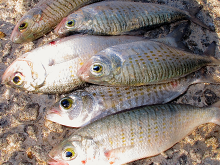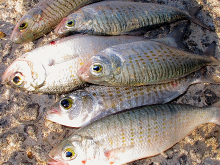 These 'bread and butter' species are generally caught from shore or small boats.
While the independently reviewed assessments show the status of tailor and whiting to be acceptable, a combination of environmental factors and fishing activity has diminished herring stocks in Western Australian waters.
Herring occur down the State's West Coast from Shark Bay, along WA's South Coast into South Australia and as far east as Port Phillip Bay on Melbourne's doorstep.
Department of Fisheries South West Bioregions Manager Tim Nicholas said herring generally only aggregated and spawned on the West Coast, with the larvae then carried south and east on ocean currents.
"Combined pressures of fishing and environmental factors, such as the marine heatwave of 2011 and subsequent warm ocean conditions, have impacted on the herring stock to the extent that action is needed," Mr Nicholas said. "The department has begun consultation with WA's peak fishing bodies (Recfishwest and WAFIC) to work through the science and formulate management responses to aid the recovery of herring stocks.
"We are also seeking to work with the South Australian government on complementary arrangements to address the issue at a whole-of-stock level."
Mr Nicholas said the Department of Fisheries had successfully tackled similar challenging issues with other Western Australian fish stocks.
"History shows that precautionary management action, which was taken to reduce pressure on demersal scalefish stocks, has now begun to turn around the previous decline for those species," he said. "WA's rock lobster fishery is another example where action was required after environmental impacts and recovery has now led to some relaxing of management measures."
"State-wide the catch of herring between the recreational and commercial sectors is roughly even, so sound management measures will be needed across both sectors."
The stock assessment research reports for southern school whiting, tailor and Australian herring are available on the department's website at www.fish.wa.gov.au.
For more information on Australian Herring visit our Species ID – Herring page or view WA Fisheries' fact sheet.