Bight Redfish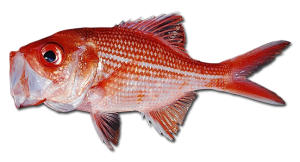 How To Catch Bight Redfish – Download PDF
Where to fish
Bight redfish, hereafter referred to as Nannygai, inhabit deeper offshore reefs along Australia's southern coastline. The Great Australian Bight is the best area to target this great tasting fish, and the best ground to find them on includes prominent ledges, lumps, patches of bigger pinnacles, and other areas of structure in 30-60m of water. When targeting Nannygai, fish the tapering edge of the structure rather than the top.
How to target
When targeting Nannygai use your charts and sounder to find suitable ground, rather than patches of fish. The ground they're found in is usually too deep to anchor and berley, so once you're found an area mark/plot it in your GPS and drift over it. Do a few drifts then move on to the next structure, rather than depleting the whole school in one hit. The rig of choice is a basic Paternoster rig with two droppers, each with a 7/0 Gamakatsu Octopus or similar hook. Lead weight will depend on depth and drift speed but 6-8oz is usually suitable.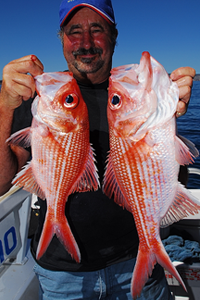 Peter Crawford with a double-header of South Australian Nannygai
Rod & Reel
When drifting for Nannygai, you'll often encounter other species at the same time, such as Pink snapper, Queen snapper, Samson fish, etc. So even though they might not grow more than a few kilos, it's best you select an outfit capable of stopping other desired species. An appropriate outfit would be a small overhead reel such as the Shimano Torium 16 matched with an 8-12kg overhead rod around 6 foot in length. Choose a rod with sensitivity in the tip but plenty of power down low.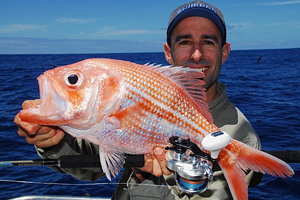 Jamie Crawford with a large Port Lincoln Nannygai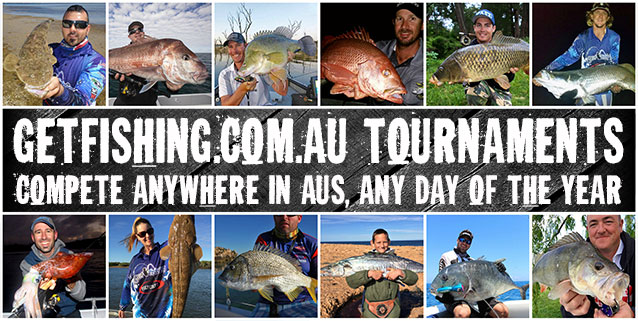 Line and leader
Leader: 80lb mono wind-on leader for shock absorption, running 2-3m above the paternoster rig
Terminal Tackle
7/0 Gamakatsu black Octopus hooks
6-8oz snapper leads
Size 2-4 crane swivels 
Best Lures
Jigs: 120-160g butterfly jigs.
Plastics: 145mm Squidgie Flick Baits with 1oz   
   Jig Heads.
Best Bait
Squid, fresh fillets of salmon trout, herring, trevally, slimy mackerel and whole pilchards.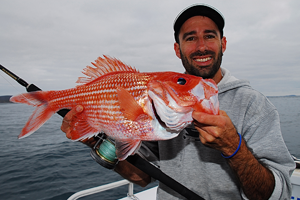 Jamie Crawford – Port Lincoln, SA
Hints and tips
Nannygai are caught around deep offshore reefs, lumps and pinnacles in cooler waters between southern WA and southern NSW. Anglers use onboard electronics to search for suitable ground, then drift over the area with bottom bouncing rigs.
Look for prominent ledges and lumps. Mark ground on your GPS then perform a 'dummy' drift to work out the drift speed and direction.
Continually let out line to keep the bait as close to the reef as possible. A sea anchor or heavier sinker will also help.
Use braid for greater bite sensitivity, and for shock absorption use a 2-3m mono leader.
Nannygai are a highly regarded table fish. Make the most of their eating qualities by bleeding and placing on ice immediately after capture.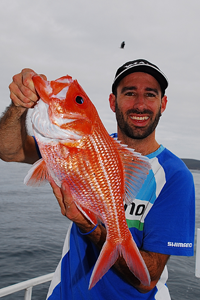 Jamie Crawford with a hooter nannygai – Port Lincoln, SA
Rigging for drifting
This method involves drifting baits over prominent structures such as ledges and pinnacles in about 30-60m of water. Use a basic double Paternoster rig with two droppers each with an octopus style hook, a 6-8oz snapper lead on the bottom, and a size 2-4 crane swivel on the top. Allow 40cm between each hook and the sinker, and 10cm between the top hook and swivel. In deep water braided mainline aids in bite sensitivity. Counteract the low stretch with a 2-3m wind-on leader for shock absorption.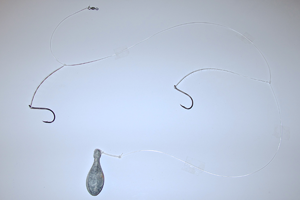 Click here for more Information On Bight Redfish
Information courtesy of Jamie Crawford, Port Lincoln SA and Department of Fisheries WA. Photos courtesy of Jamie Crawford.