Black Drummer
How To Catch Black Drummer – Download PDF
Where to fish
The best place to target Drummer is the turbulent whitewash zones such as deep washy drains and gutters around rocky headlands and where the headland meets the beach. Early morning and late evening after a big swell produce the best results. Never risk your life by fishing in large dangerous swells.
How to target
From a safe vantage point, fish an area where all the action is, a place where you would expect crabs and other food to get washed off the rocks. The idea is to keep your bait suspended just above the bottom underneath the wash, so choosing the right sized sinker is key. The wash will aid in keeping your bait suspended, but when you feel your bait hit the bottom lift your rod and slowly retrieve, as if you were bouncing your bait back to shore. Drummer bites are distinctive hard bumps. When you hook up, go hard and don't give them an inch!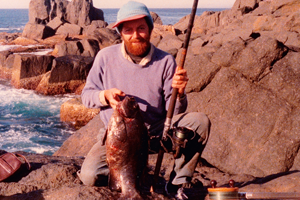 Ken Riches with a NSW south coast pig approx 4-5kg. Pic taken in the 80's
Rod & Reel
When fishing for Drummer you'll need a long rod for steering fish away from snags and ledges and for lifting fish when landing. When targeting small to medium sized Drummer, 1-2kg in size, a 10ft 6-wrap fiberglass rod (or equivalent in graphite) is suitable. To consistently land larger fish around the 3kg mark a 12ft 8-9-wrap rod is more appropriate.
The traditional reels of choice among Drummer fanatics were the 6.5 to 7 inch 'E' series Alveys. Nowadays Alvey offer a wider range including the lighter 'BE' series with a graphite back plate. Alternatively, if Alveys aren't your style a large spin reel will do just fine.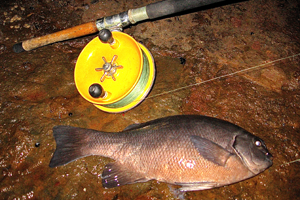 Line and leader
Line: For small to med sized fish use 10-12lb abrasion resistant mono (or braid). For larger fish use 20-30lb mono.
Leader: Monofilament the same strength as mainline. Fluorocarbon is not necessary, unless perhaps fishing calm conditions during the day.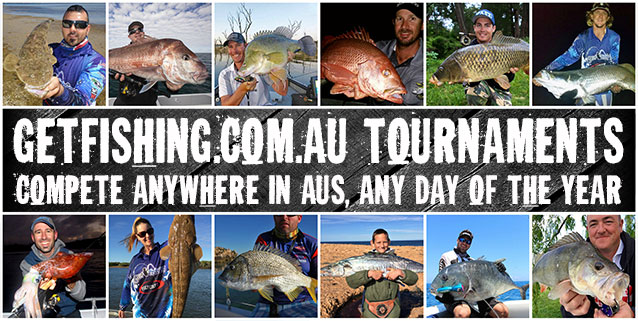 Terminal Tackle
Size 2 to 3/0 hook, swivel, and a variety of ball sinker sizes. In some situations float rigs are handy.
Best Bait
Cunji, rock/shore crabs and peeled prawns. Alternatively, try bread, dough or cabbage weed.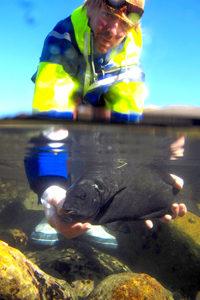 Jerom Stocks – NSW Fisheries tagging program
Hints and tips
Drummer are a powerful fighting omnivorous fish targeted by Rock Hopping anglers between southern QLD and TAS. Pound for pound Drummer are one of the toughest fighting fish in the sea. Anglers use a constant bread berley to attract and keep them in one place.
Drummer are a slow-growing species susceptible to overfishing. The NSW daily bag limit of 10 fish is ridiculous. Take a few for a feed and let the rest go.
Dispatch and bleed Drummer straight away. Keep in a cool rock pool and clean them on the rocks rather than at home.
It's best to target Drummer early morning/ late evening. If it's calm arrive at first light.
Rock fishing is a dangerous sport and claims many lives each year. Never fish alone, assess the conditions before fishing, and never fish in large swells or dangerous conditions.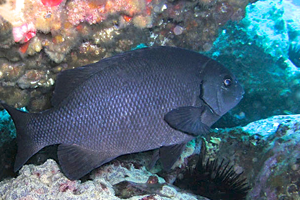 Rigging for bottom fishing
When fishing for Drummer, snags and bust offs are common occurrence. Keep your rig simple and use as little weight as possible to achieve a suspended bait just above the bottom. In some situations no lead is possible but this is rare and will reduce your direct contact with the bait. A common Drummer rig consists of a running sinker on a 0.5 to1m monofilament leader between a swivel and the hook. If using braid a swivel is still recommended to reduce time spent tying joining knots.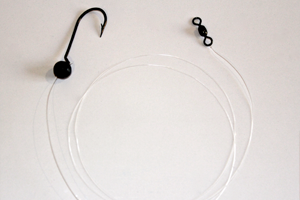 Rigging for float fishing
The following is the same rig use by Luderick anglers and is suitable for presenting suspended baits mid-water for small to medium sized Drummer. The first step is to assemble your leader. This consists of (from top to bottom) a swivel, 2-3m of monofilament leader, 2-3 lead weights crimped onto line, and a size 2 to 2/0 hook. Thread a rubber stopper onto the mainline and slide it up a few feet. Then (in this order) add a bead, your float, and another bead then tie your mainline to the swivel at the top of the leader. For a detailed diagram download the pdf from the 'Fast Facts' column to the right.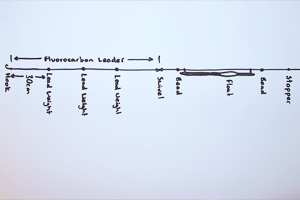 Click for more Information On Black Drummer
Information courtesy of Ken Riches, Moruya NSW. Photos courtesy of Ken Riches and Jerom Stocks, NSW.