Dusky Flathead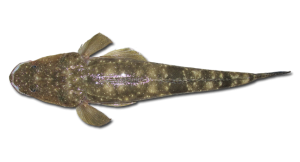 How To Catch Dusky Flathead – Download PDF
Where to fish
Dusky flathead inhabit estuaries from the river mouth right up to brackish water between the depths of 1-20m and to a lesser extent beaches and headlands adjacent to river mouths. They prefer a soft sand or mud substrate but quite often hang around patchy sand, rock and weed. Focus your activity along the edges of channels, drop-offs & around weed beds on sandbanks.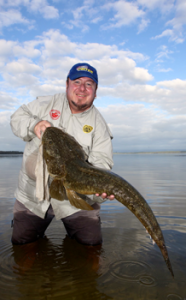 Ian Phillips with one of his biggest duskies at St Georges Basin, NSW
How to target
Duskies will readily take live baits and pretty much anything else you can think of but arguably the most enjoyable and sporting way to target them is on lure. You need an outfit that will maximise casting distance allowing you to cover more ground per cast, and a variety of soft and hard-bodied lures for different applications. Starlo and Bushy revolutionised the soft plastic phenomenon with the invention of the Squidgie and to this day soft plastics are the preferred choice amongst many top anglers so give them a go next time you're out.
Rod & Reel
A light to medium 6′-7′ carbon fibre or graphite rod in the 2-6kg range with quality guides and a cork grip paired with a light threadline reel with a good drag system, metal spool and coated line bail rollers in the 1000-4000 size range. Alternatively a light 5'6″-6'6″ overhead rod paired with a light baitcaster reel will suit.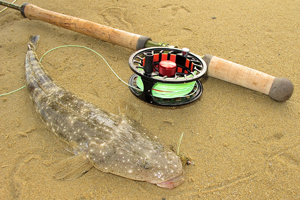 This flathead was taken on fly in the Tuross River by Steve Starling
Line & Leader
6-10lb fine diameter and brightly coloured braided line. 2-10lb fluorocarbon leader.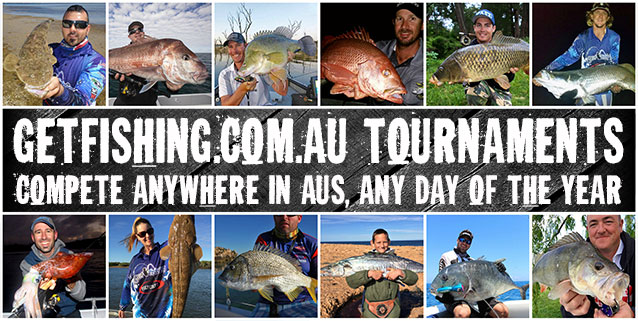 Terminal Tackle
Jighead: 4/0 – 6/0 weighted to suit depth.
Hooks: Any style from 2 – 4/0 to suit bait size.
Trebles: Decoy YS 25's, Owner ST-11's, or VMC.
Sinker: Size 1 to 5 ball for most estuary settings. Limit weight as much as possible.
Best Lures
Duskies will attack just about anything. Plastics, vibes & blades work well and so do shallow diving hard-bodied minnows on the sand flats.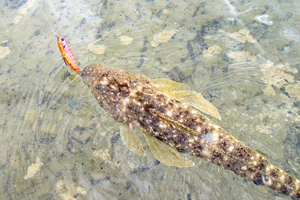 Flathead will launch after surface lures in the shallows
Best Bait
Again, duskies will eat anything. But remember big baits catch big fish. Some of the better baits include live poddy mullet, fresh strip/fillet baits, live prawns, frozen prawns & whitebait.
Hints and tips
Dusky flathead are caught within estuaries and nearshore waters throughout Queensland, New South Wales and Victoria. They are relatively easy to target on lure and are best targeted in the warmer months from October to April.
There's no 'right' way to retrieve soft plastics. Vary the retrieve from slow & straight to sharp & erratic until you find what's best on the day.
Try giving the rod a good hard rip to lift the jig well off the bottom then let it drop again. Pause then repeat.
Concentrate on edges of channels, drop-offs & around weed beds on sandbanks.
Store your soft plastics in a 'worm proof' tackle box and carry a diamond hone for touching up worn jig hook points.
Rigging for luring
Soft plastics: It's important to rig plastics on the hook properly. They must lay straight & not bunched up or it will interfere with the action & not swim correctly. Measure it alongside the jig head & take note of where the hook will need to exit the body. Start the hook point in the center of the nose & thread it round the hook & bring the hook point out through the seam so it lays nice & straight.
Hard-body lures: Join leader to lure with a loop knot such as a Lefty's Loop to allow the lure to swim freely in the water.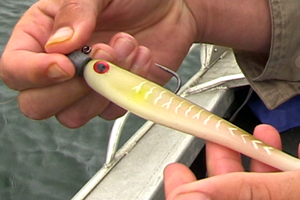 Make sure your plastics are straight when rigging
Rigging for bait fishing
Live fish: Larger duskies will usually engulf livies whole and sometimes bite you off so use a heavier leader of around 20lb and 2ft in length. Use a suicide or octopus style hook and as small a sinker as possible running freely above the swivel allowing the bait to swim around somewhat naturally.
Other bait: Similar to above but run the sinker between the hook and the swivel for better bite sensitivity. Choose a hook to match your bait choice and reduce leader strength to 10-12lb.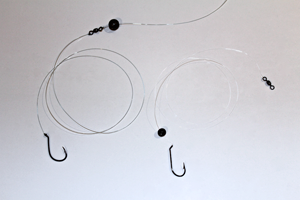 Bait fishing rigs – Live fish left, other baits right
Click here for more Information On Dusky Flathead
Information courtesy of Ian Phillips, Wollongong NSW and DAFF QLD. Photos courtesy of Ian Phillips.