Estuary Perch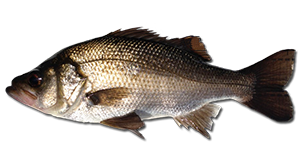 How To Target Estuary Perch – Download PDF
Fast Facts
Scientific name: Macquaria colonorum
Estuary Perch (EP's) are from the family Percichthyidae (temperate perches)
Often mistaken for Australian Bass (Macquaria novemaculeata)
Are from the same family and genus as Australian Bass
Can grow to 75cm in length and 10kg in weight
Depth range 0-15m
Endemic and native to Australia
Distinguished from bass by their concave dorsal head profile and slight reddish tinge to the ventral fins
Estuary Perch and Bass can hybridise, especially in the Snowy River and Gippslands region in Victoria
Where to fish
Estuary perch, otherwise known as EP's, inhabit estuaries from the central NSW coast to the VIC/SA border. They occupy the upper reaches of estuaries in spring, summer and autumn, and mature adults will move to the front of the estuary in winter to spawn. When targeting EP'S focus on structurally complex features more complex than surrounding habitat such as; fallen trees, bridges, jetties, rock walls and weed beds.
How to target
There are four main techniques when it comes to targeting EP's in estuaries; 1) Throwing hard-body lures at structures, 2) fishing soft plastics at depth along rock walls & in front of structures, 3) casting surface lures at structures during daylight or over weed beds at night, 4) presenting suspended live baits such as live prawns or ghost shrimp.
When fishing from a boat maintain position within casting distance from a structure, or when targeting from shore fish adjacent to structure. Muscle up, fish with heavy drag settings and keep the fish' head moving forward at all times.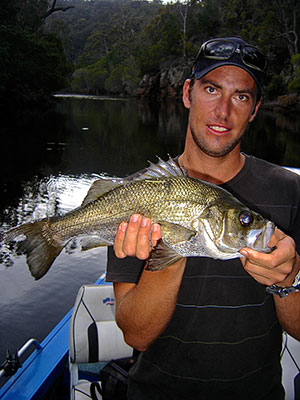 The author with a 45cm fork length, Merrica River Estuary Perch
Rod & Reel
When targeting EP's go for a lightweight, light line outfit. A graphite 7-foot 1-3kg spin rod and a 1000-2500 sized reel is perfect. A lightweight setup like this will enable you to cast small lures further, allowing you to position yourself a greater distance from the structure of interest.
If you prefer to custom build your own rods the G. Loomis DSR820 fast taper blanks are ideal.
Line and leader
Lure: 2-4lb braid & 1.5-2m 5-8lb fluorocarbon
leader (can shorten for surface luring if needed).
Bait: 4-6lb monofilament or braid & 0.5-1.0m 5-8lb
fluorocarbon leader.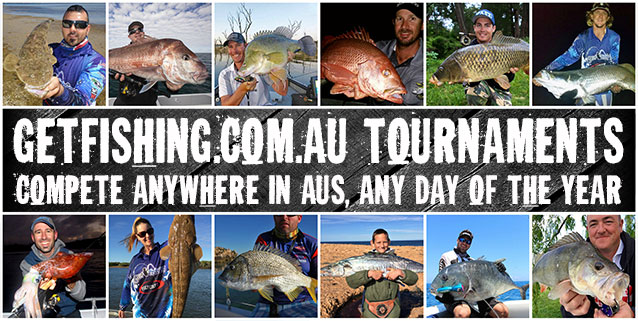 Terminal Tackle
Bait fishing: Size 1-6 hook, size 4-8 swivel, size 0-2
ball sinker but limit weight where possible.
Lure fishing: Trebles – Decoy YS 25's, Owner
ST-11's, or VMC. Jigheads – 1/32 – 1/4 oz to suit
depth.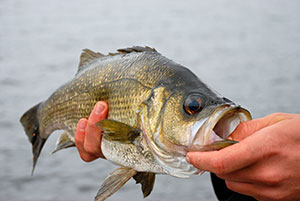 Best Lures
Surface: Megabass baby Griffon Zeros, Lucky
Craft NW Pencils, Zip Bait Crazy SSR.
Sub-surface: Lucky Craft Bevy Shad 60SP, most
Vibe, Jackall, Megabass, or blade lures. 80mm
Bloodworm Squidgie Wrigglers.
Best Bait
Live prawns and ghost shrimp (nippers).
Hints and tips
Estuary perch are caught in estuaries from the central NSW coast to the VIC/SA border. Anglers concentrate their efforts around structurally complex features and use lightweight outfits and a variety of lures or live baits to target them.
Fish with stealth. Position yourself as far from the structure as possible to keep the bite going a bit longer. Using an electric motor will help hold position.
More time on the water will see you eventually landing bigger fish. The more isolated rivers tend to hold trophy fish.
During daylight hours EP's hold tight up against structure. Get your lure right up in there.
Releasing fish straight back into the water can spook the school. Use a livewell and release fish later. Note: remember to still adhere to the legal bag limits, as fisheries officers will assume you're guilty.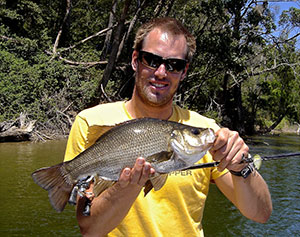 The author with a 43cm fork length EP, Shoalhaven River NSW
Rigging for luring
The trend amongst anglers targeting EP's on lure would have to be braided line. Attach the braid mainline to a 1.5-2m fluorocarbon leader with a joining knot such as an FG knot or equivalent. Attach the leader to the lure with a Uni knot. The Uni knot can be pulled back to create a loop knot if required. If bigger fish are busting you off try upping the strength of the mainline and leader and applying more drag. Likewise, downsize if the fish are of a smaller caliber and easy to land.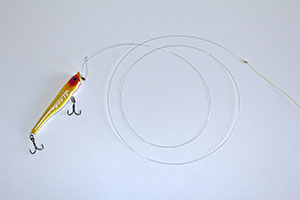 Rigging for bait fishing
When it comes to targeting EP's around fallen trees you want to present your offering mid-water. An easy rig that works consists of a size 1-6 hook and 0.5-1m fluorocarbon leader. To maximise time mid-water use as little weight as possible. In some situations you can get away with using no lead. If required, crimp an appropriately sized piece of sheet lead over your line to act as a sinker. When targeting EP's over weed beds at night use the same rig with the addition of a float and stopper.
Information courtesy of Dylan Van Der Meulen, Tomakin NSW and DPI Fisheries VIC. Photos courtesy of Dylan Van Der Meulen.