Giant Herring in Walpole – A Kayak Fisho's Dream
On a recent trip to Western Australia's south west I was lucky enough to experience one of those fish-of-a-lifetime encounters with a Giant Herring close to 1m in length.
It all started when I picked up my new kayak from Perth Airport the day before our trip down south. Some serious research went into choosing the right yak that would be suitable to a variety of conditions. The vessel not only needed to fit into my budget of less than $1,000 but it also needed to be a purpose-built fishing platform suitable to fishing a variety of Western Australia's fresh and saltwater waterways as well as Perth's inshore waters. After filtering through the various brands, shapes and models I had my heart set on the Dream Kayaks Angler's Dream 3 which is a 4m Fishing Kayak that comes fully rigged with loads of extras. At the time of purchasing the guys at Dream Kayaks did not have a shop front where the kayaks could be viewed. The only way to get one was to purchase online and pick up from a warehouse at Perth International Airport, which seemed like a leap of faith at the time. This particular model really did tickle my fancy far more than anything else within my budget so I bit the bullet and got one. Needless to say I couldn't be happier with my new rig that is comparable, if not better in my opinion, than kayaks twice the price.
After packing all of the camping gear into the 4×4 and strapping the yak to the roof, my wife, two golden retrievers and I hit the road and headed south. Our first destination was Walpole, a small town on the south coast of WA about 5 hours drive from Perth and an hour and a half drive west of Albany. The Walpole region is a renowned fishing hot spot that offers anglers two adjoining inlets to fish, Walpole inlet to the north and Nornalup inlet to the south. The town of Walpole itself is situated at the northern end of Walpole inlet. The two waterways are actually joined by a narrow neck of water about 1km long and 200m across. Considering we were booked to camp at the Rest Point Holiday Village on the western side of this neck of water it made sense to focus my fishing efforts in this narrow stretch of water for a couple of days.
The first session was an arvo session along the eastern edge of the neck, fishing the small rocky points adjacent to sand/gravel substrate. This trip was the maiden voyage in the new Angler's Dream 3 and produced a few nice herring and undersized snapper on plastics. The yak was a pleasure to fish out of but unfortunately lure fishing was made difficult with the occurrence of snotty slime weed almost every cast no matter where you fished. Although I had managed about ten fish in a few hours it was certainly nothing to write home about and after chatting with a couple of other fishos in the camp ground I was starting to think the blanket covering of weed throughout the inlets was going to jeopardise the whole trip.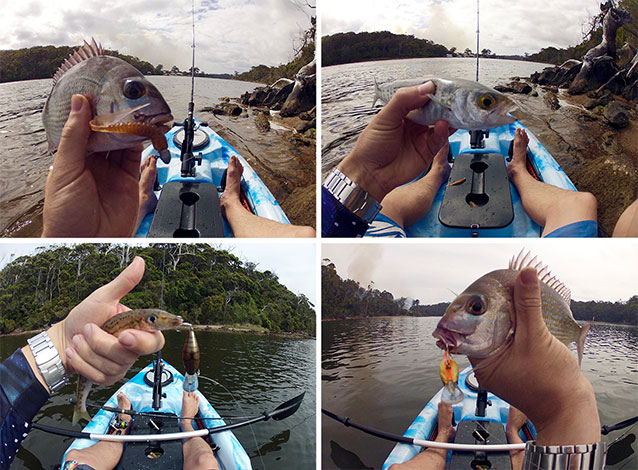 The next morning I ventured out just after first light for another session, this time along the western edge of the neck and down into the sand flats in the north west of Nornalup inlet. I spent the first couple of hours throwing Squidgy Wrigglers and Z-Man Grubs along the rocky edges and down along the sand flats in search of bream and Flathead. Both of these species seemed to be pretty well shut down but the plague proportions of undersized snapper and the occasional herring provided endless entertainment. At this point I was thirsty for some real action and was starting get over catching tiddlers. As I made my way back into the neck and towards the cap ground I came across some good gravelly ground adjacent to a rocky point on the western edge. Unlike everywhere else this patch of ground had little to no slimy snot weed. I decided to mix it up and start throwing hard bodies instead of plastics, and it became apparent that Jackall Chubbies were more than twice as effective than any plastic I had used that morning. Almost instantly I was getting hit left, right and center by juvenile King George Whiting and snapper, herring and a couple of bream. It was starting to get late In the morning, about 9:30am, and it was time to start heading back.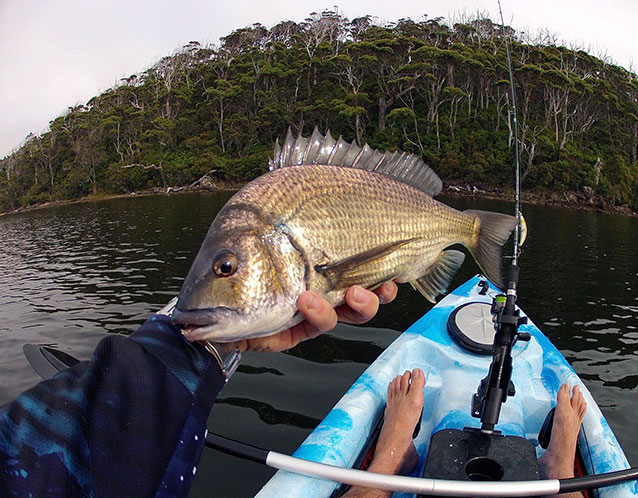 It was one of those occasions where you really wanted to stay but you knew you'd better leave otherwise you'd be in the dog house with the better half. Anyway I decided to push my luck and have a few more casts when SMACK! I finally came connected to a decent fish. It felt like a decent flatty and started to moving right and back towards the yak. Moments later as the fish rose to the surface I got a visual and could not believe what was unfolding – I was connected to a fish that I honestly never thought I would encounter – a Giant Herring, and a big one at that. The fish's dorsal and tail fins broke the surface about 6-7m away from the yak and up until this point it was a pretty casual fight. However, things changed dramatically as soon as the fish saw the yak. The next 5 minutes or so entailed a series of excruciatingly fast runs that saw the poor little 1000 Shimano Rarenium Ci4 reel with only 4lb braid cop a serious flogging.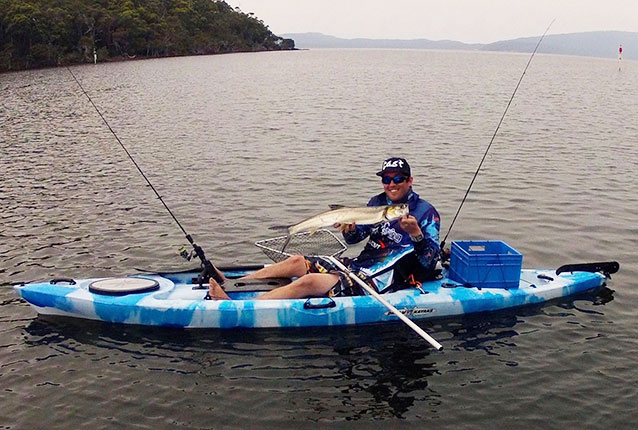 About 100m away there was a boat passing by, heading south towards Nornalup inlet. I gave a frantic wave signaling it to come over. All I could think of was that I needed a net to land this fish and this was my only chance to get one. After a quick briefing with the guy in the boat he was generous enough to pass me his landing net and sit back waiting until I landed the fish – what a legend. Over the next 10-15 minutes there were several moments where I thought the fish was going to spool me, but as luck would have it I was fishing from a kayak and was able to put just enough pressure on the fish to enable it to tow me around, gaining line at every chance. The fish showed relentlessness equivalent to that of a tuna or even more so. It just wouldn't give up and every time it neared the yak it would tear off another 10-30m of line. After a total 20-minute battle I was able to slip the net under the speedster and get a close up look at it.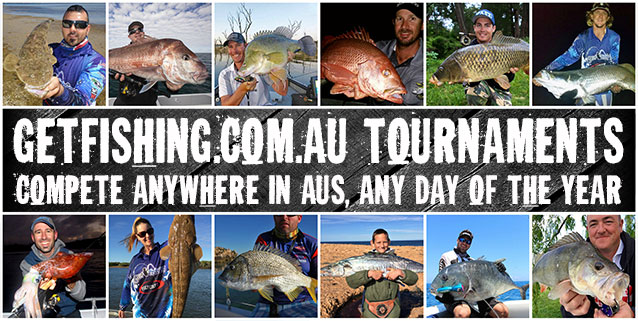 It truly was a magnificent looking fish and I can remember a distinct odor coming from its slimy flanks. By this stage the generous boatie and his two kids were pulled up alongside the kayak and were kind enough to take a few photos. I wish I had taken more time to admire the Giant Herring in all it's glory, but my thoughts were focused on getting it back in the water as quick as possible. The fish was buggered from a drawn-out fight but after a quick swim it regained it's energy and powered off to fight another day. At nearly 1m in length (it looks much smaller in the photos) it has to be up there with one of my most memorable captures and pound for pound one of the best fighting fish I've ever done battle with. Given the rarity and unpredictability of Giant Herring as a target species, and considering it was caught on 4lb Sunline braid and 6lb Yamamoto leader it's fair to say that this was a true fish of a lifetime and a fish I'll never forget.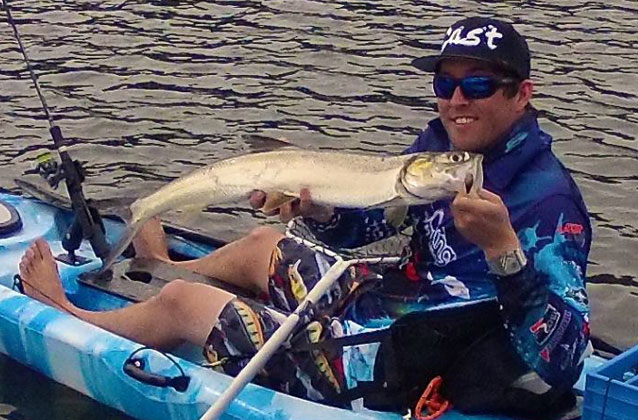 Unfortunately this was to be my last session in Walpole for the trip. As it turns out the National Sparks and Wildfires unit thought it would be a good idea to begin back burning from the edge of the campground right throughout the National Park. The intense smoke and heavy traffic of fire trucks and support vehicles was a complete turn-off to our peaceful campsite. The owners of the park were furious considering it was peak holiday season and only 1 week before Christmas, but there was nothing they could do. We didn't think too fondly of the situation so we decided to leave 4 days early and headed north to Busselton to continue our adventure.
At the time of writing this article my number of sessions in the Dream Kayaks Angler's Dream 3 still remains relatively few. However I can honestly say from a fishing perspective it certainly lived up t all of my expectations. Previously I had fished from other quality yaks but the Angler's Dream surpassed those as a fishing platform. It is very stable, has plenty of storage including a large rectangular compartment conveniently located between your legs, it has a sturdy and easy to use rudder system, ample rod storage, drainage bungs and a super comfy adjustable seat. Aside form that the blue camouflage colour I chose also makes it look like a serious fishos kayak. I did notice that Dream Kayaks have a stack of RailBlaza accessories available on their website. I've got my eye on a camera boom and kayak trolley for now but the list of gadgets to trick your yak is endless.
The new kayak and this latest adventure down south have certainly rekindled my passion for this style of fishing, so be sure to keep an eye out for future kayak fishing articles on the website!