Luderick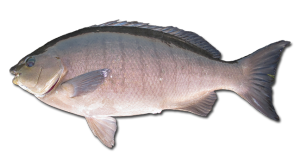 How To Target Luderick – Download PDF
Where to fish
Luderick inhabit estuaries and coastal waters at depths up to 20m, between southern QLD and TAS. This guide focuses on targeting Luderick in near shore ocean environments, but the same principles apply to estuary fishing. In the ocean, Luderick school in shallow rocky areas adjacent to wash, around headlands, near shore islands and reefs. Winter is a good time to target them in areas where they congregate daily, year after year.
How to target
Fish a suitable location where your berley will hold without being swept away in the current. Anglers who target Luderick fish with long fast taper rods, around 8-9ft when fishing from a boat up to 12-13ft when fishing off the rocks. Throw in small hand fulls of berley regularly. Position the float stopper so that your bait sits about 400mm off the bottom and weight your rig so that the float remains upright with the top 1.5 inches out of the water. When the float disappears, count to 2 or 3 and lift the rod firmly rather than striking hard. Play your fish out rather than skull dragging to avoid straightening the hook.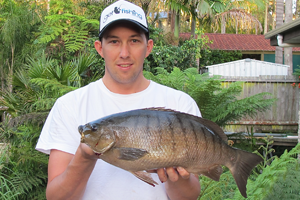 Get Fishing founder Robbie Riches with a 52cm, 2.1kg Moruya River Luderick
Rod & Reel
When fishing for Luderick you'll need a long rod with a sensitive tip, strong butt, and a big stripper guide. A longer rod aids in maneuvering the long rig during casting and retrieving and also when playing fish around the rocks. A light 8-9ft rod is suitable for boat fishing while a slightly longer 12-13ft rod is more appropriate off the rocks.
The traditional reel choice would be a small 4-5 inch centrepin or sidecast Alvey, however it depends on personal preference, a small 2500-3000 size spin reel will do just fine. Choose an outfit that is balanced, lightweight and feels comfortable for long periods of use.
Line and leader
Line: 6-20lb braid or 6-10lb mono.
Leader: 4-10lb fluorocarbon (lighter than mainline).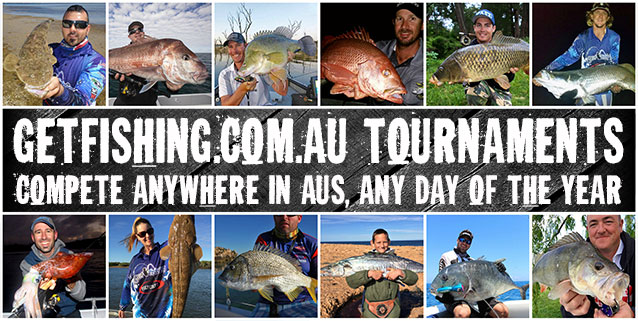 Terminal Tackle
Size 8-10 hook. Split shot or sheet lead weights. Rubber stoppers. Beads. Floats – 300mm quill-type with small cork. Small swivels.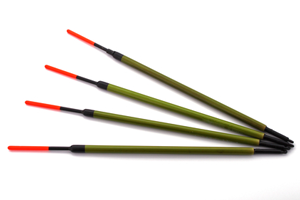 Best Lures
Fly: Weed imitation flies.
Best Bait
Green weed or cabbage weed. Alternatively nippers, prawns, blood worms, cunji or bread.
Hints and tips
Luderick are caught in estuaries and near shore waters around break walls, rock outcrops, headlands and shallow reefs. Fishing for Luderick is an art form. Among the many trade secrets, anglers use fresh weed and berley to bring home a good feed of Luderick.
Fish a location and tide that will see your berley holding in the one spot. Berley should be damp and consists of finely chopped weed and sand.
Never fish a building tide or swell in the ocean. The end of the run out tide is the safest and also fishes very well.
A long 12ft landing net is required from the shore. Shorter nets are fine in the boat.
Rock fishing is a dangerous sport that claims many lives each year. Never fish alone, fish the ebbing tide, assess the conditions before fishing, and never fish in large swells or dangerous conditions.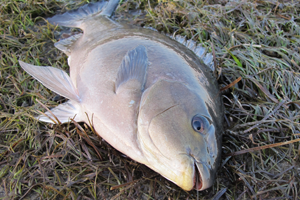 Rigging for float fishing
This method is suitable for presenting suspended weed baits just above the rocky bottom in about 3-10m of water. The first step is to assemble your leader. This consists of (from top to bottom) a swivel, 2-3m of light fluorocarbon line, 2-3 lead weights crimped onto line, and a size 8-10 hook. Thread a rubber stopper onto the mainline and slide it up a few feet. Then (in this order) add a bead, your float, and another bead then tie your mainline to the swivel at the top of your leader. See diagram below.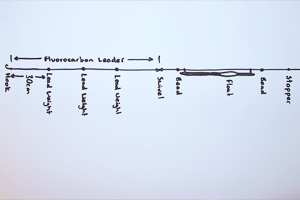 Click here for more Information On Luderick
Information courtesy of Peter Marshall, Wollongong NSW and DAFF QLD.