Monster Snapper Caught Off The Rocks
When asked 'What is your dream fish?', many Australian Anglers would answer 'A big snapper over 10kg'. There's something special about big snapper, or 'reds' as many prefer to call them, that sets them high up on an anglers pedestal. Characteristics that give snapper their status, apart from their obvious handsome appearance and eating qualities, include their notorious hard hit and blistering first run, their knee-wobbling head thumps, their skittish feeding behavior and their ability to dictate terms during a fight. Snapper fight dirty when hooked in shallow water, busting off even the most experienced anglers in the blink of an eye. Fighting a snapper in shallow water is like battling an out-of-control freight train as they scour the broken bottom for any opportunity to cut you off. Fishos who so passionately fish for snapper know this feeling all too well and it's on that note that I would like you to grasp the sheer achievement of this 16kg fish caught off the rocks by Nathan Brown in April 2014.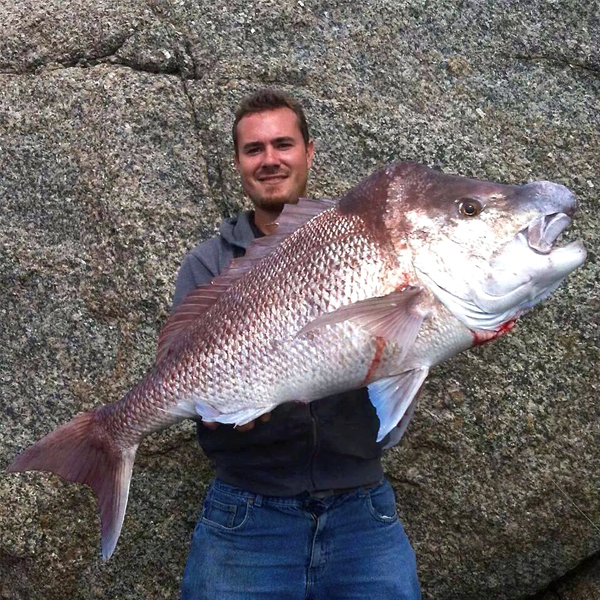 Nathan Brown showcasing the monster 16kg snapper he caught off the rocks in Albany, WA
Nathan brown is an ordinary Aussie bloke who loves his fishing. By day he earns his crust as a coppice worker at Albany in WA's South West, specialising in after-harvest maintenance of plantation trees like Bluegums. However, on the weekends and at any available opportunity Nathan can be found rock-hopping the coastal granite cliffs around Albany with his mates. The relatively deep water adjacent to rock platforms and cliffs in the area gives rise to fantastic land based fishing opportunities. Species that can be found here include blue groper, snapper, samsonfish, tuna, salmon, kingfish and more. Nathan and his mates are no strangers to landing big fish from the stones, however on this day none of them could predict the size of the snapper they were about to connect with.
The boys arrived at their fishing spot shortly after daylight and were fishing by 7am. They started the morning flicking lures for pelagics. After catching a handful of salmon and bonito the session was about to get serious. They whipped the fillets off their catch and belted them out in hope for something more substantial while they berleyed with the frames and old fish bait. While Nathan and the others were using small chunks of fresh fillet for bait, Nathan's mate Jacob decided to cast out a large slab of bonito. That's when all hell broke loose. At about 9am Jacobs rod buckled over as he sank the hook into the first big fish of the day. The fish took so much line on it's first run leading everyone to believe Jacob had hooked a samsonfish. After a 5 minute battle the subdued fish neared the rocks. As it broke the surface everyone's eyes lit up as they gazed upon a snapper in the order of 10kg bumping it's head in the wash. While the crew prepared to land the fish it took one last run and busted off on the rocks. With no further ado, everyone got a line back in the water and within 5 minutes they were on again. This time a 9kg snapper was successfully landed, setting the scene for the rest of the morning. Every few casts (roughly half an hour or so) someone would connect to another horse snapper.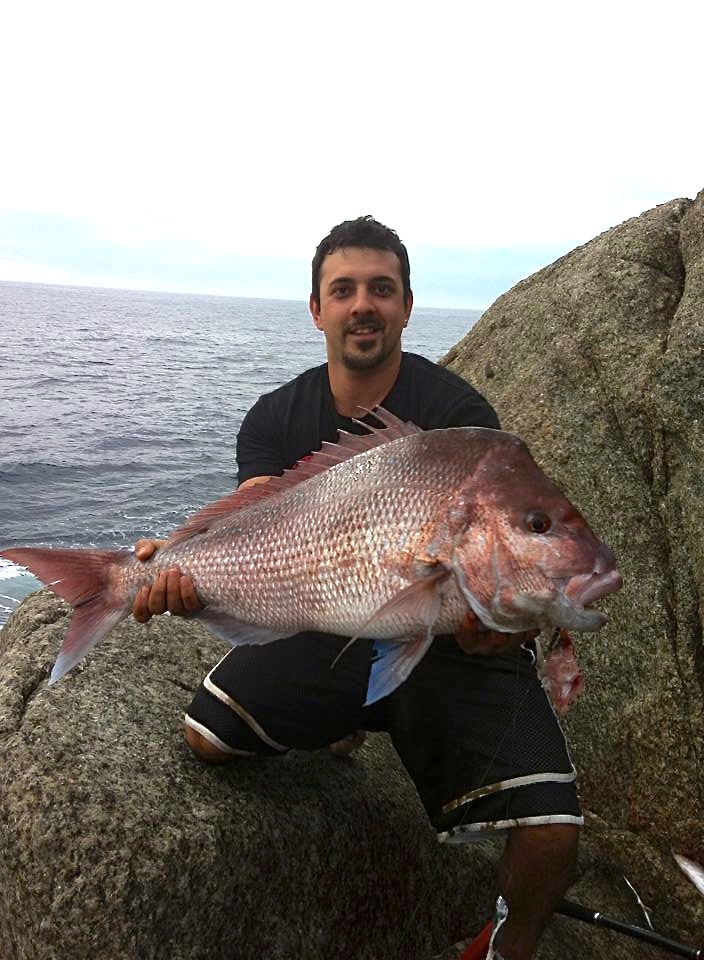 Jacob Crispe with a land based snapper caught on a large chunk of bonito
One guy got busted off by three fish, another landed four, and by 12pm Nathan was starting to wonder if he'd get a shot at one himself. Realising that the snapper were all taking large baits, Nathan cast out a 10cm x 10cm chunk of bonito. Soon afterwards he got the hit of a lifetime on his 7-foot rod. As the braid poured from his reel in a fashion much harder than the others had experienced, he began to question his first thoughts of snapper and was beginning to think he'd perhaps hooked a rogue samsonfish. Five to ten minutes later the fish surfaced and all were gobsmacked by their first glimpse of the enormous head and proboscis-like blue nose of the monster snapper staring back at them. The swell was quite rough on the day but luckily they were fishing in a sheltered area and had a calm place to safely gaff the fish. After a few photos were taken and as the adrenalin started to settle, the guys finally began to comprehend the physical enormity of the fish and the mind blowing session they'd just experienced. Nathan says he can't describe the feeling of when he caught the snapper, it wasn't his biggest land based capture but definitely his best.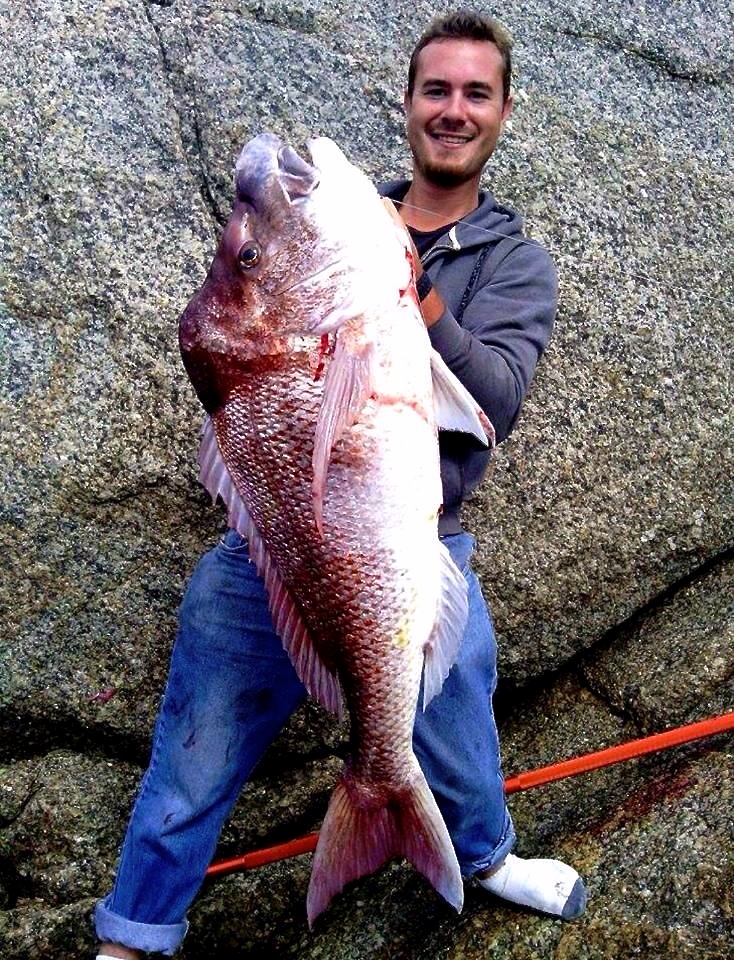 Another angle of Nathan Brown's 16kg land based snapper caught in April 2014
Luck was on Nathan's side on the day. During the fight the fish did it's best to bust off, hitting the reef on a couple of occasions, worrying him as he felt the line rubbing against the rocks. Experience paid off in this instance because Nathan was using 100lb leader. Had he been using lighter leader he says he would have lost the fish. Furthermore, the fish actually bit down on the hook, closing the gape so that there was no chance of it falling out.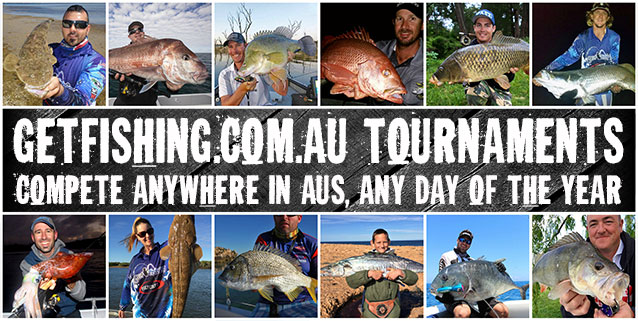 In total five snapper were landed during the seven-hour session and another five or six were lost. All of the fish were around the 1m mark, 90cm being the smallest and 13kg being the second biggest. Nathan's monster hit the scales at just under 16kg, roughly 2.5kg shy of the 18.4kg state record and quite possibly a state or national land based record. He was using his mate's new 7-foot Penn Spinfisher rod and Pflueger Salt 80 reel loaded with 80lb braid. The rig used was a 100lb paternoster rig with a single dropper, 5/0 tarpon hook and 6oz snapper lead. His mate Jacob was using a snell rig. Some may think that 100lb leader is excessive. However, these guys know their stuff and the terrain they fish regularly. On numerous occasions heavy leader has made the difference between landing a fish of a lifetime and not. When you see the caliber of some of their catches over the years you soon realise that when extracting big fish from the stones you can't give them an inch. To land big fish regularly off the rocks anglers need to ensure that all of their gear is in perfect working order and that their terminal gear is up to the challenge, not to mention your own physical strength and fitness.
Anyone now thinking about packing the car and hitting the rocks for a session, just be mindful that rock fishing has it's inherent risks and is not for everyone. Rock fishing is an extremely dangerous sport. Not because you always get hurt, but because it only takes one simple mistake or lapse in judgement and it's all over. Rock fishermen/women are extremely experienced anglers and have a firm respect for the ocean. They understand the dangers involved. If you are relatively inexperienced at rock fishing, lack confidence, are less nimble, or just unsure whether you are ready to fish off the rocks, please don't jump right in at the deep end. Work you way up to it by developing the necessary skill set. Start by fishing off the rocks in estuaries, fish the beach regularly until you get a grasp of the ocean, fish from heights off bridges and piers, then finally off sheltered low-lying ledges or rock walls in protected coastal waters on a very low swell. Never fish alone. When you are relatively inexperienced make sure that your buddy is an experienced rock fisher and is willing to teach you the ropes.
Below are a some photos of fish that Nathan and other Albany local, Cowan Wise, have caught from the rocks over the years: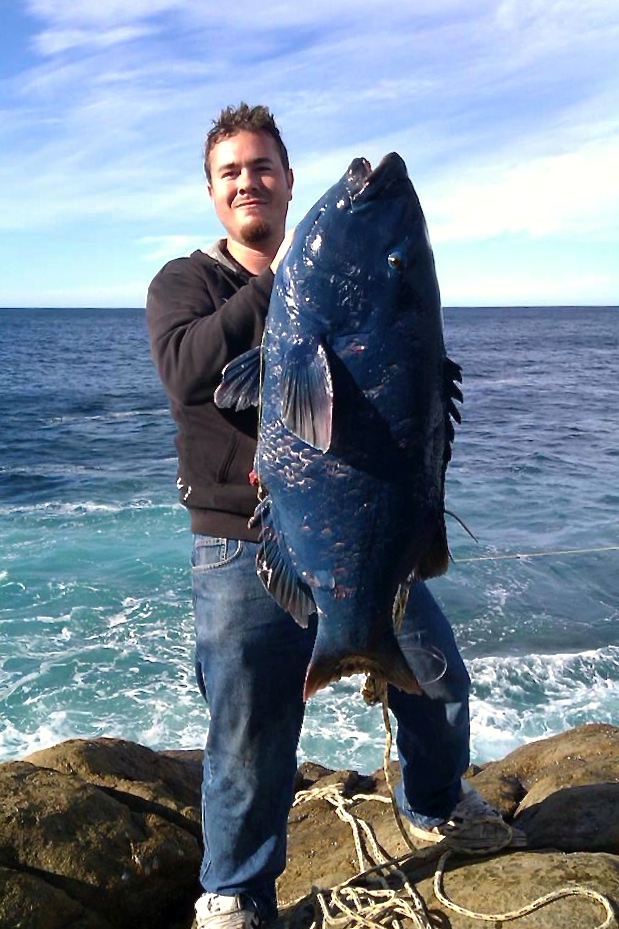 Nathan Brown with a solid western blue groper caught July 2013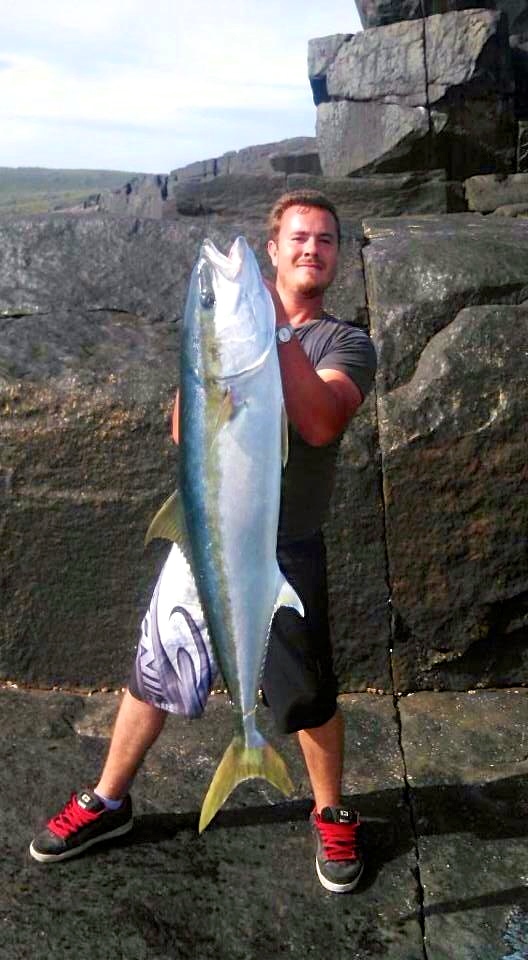 A big yellowtail kingfish caught by Nathan Brown in Jan 2013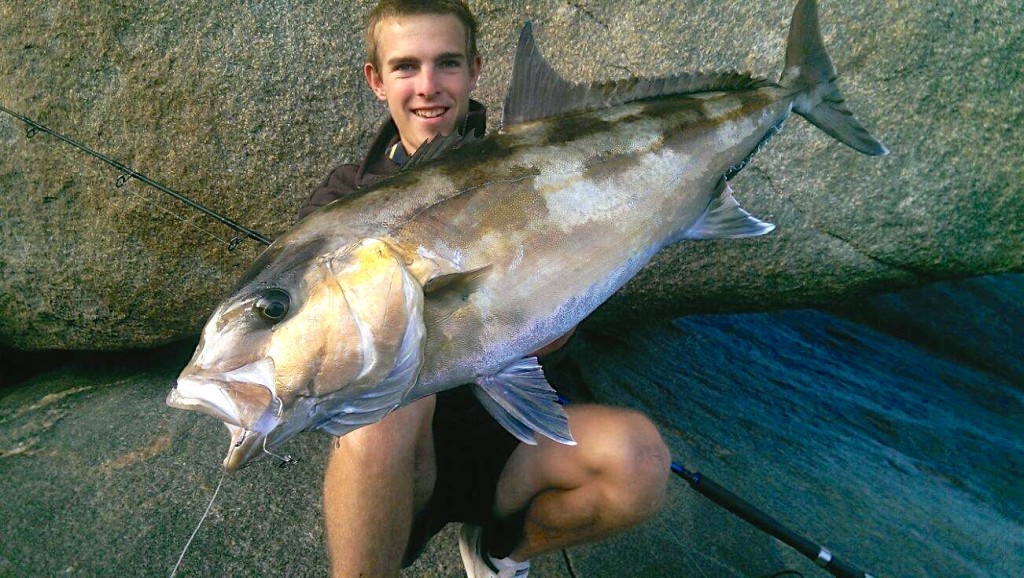 Cowan Wise with an Albany samsonfish fresh out of the water displaying blotchy colouration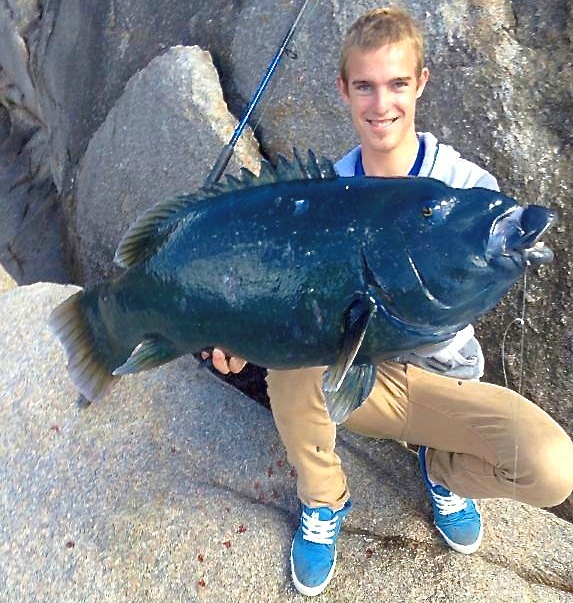 Safe fishing from the team at Get Fishing!
By Robbie Riches – Get Fishing Founder and Managing Director