Perth Metro WA Dhufish
After arriving back in Perth after a recent Mid-West fishing trip, good mate of mine Jeffrey Ward still had a bone to pick before heading back to Sydney. Although he had managed a decent Dhufish of around 4kg on the trip, he still felt there was time to pin a more respectable fish and try to break the magic 10kg mark before his departure.
So, having a few secret spots up my sleeves I kicked Jeff in the guts on Monday morning and took him out for a fish. We tried a few shallow water Snapper spots first (somewhere in the vicinity of Hillarys Marina), but to no avail we headed out wider to an old faithful Dhufish patch of mine. About 10 minutes into the session we had a few mutton birds at the back of the boat. After flicking them an off-cut of Tailor fillet to distract them we both dropped down at the same time. Unfortunately for Jeff one mutton bird cottoned on to what we were doing and dived downwards, grabbing his bait about 10m under the surface.
While Jeff was doing battle with a handful of mutton, my bait continued to sink and moments later I felt the characteristic bump of a large Dhu mouthing my bait. I didn't think twice to strike and when the hook found it's home the 7′ 5-8kg spin stick loaded up as the big fish started to bounce around in typical Dhufish form. I called it for a biggy straight away and was cautious to just play her out and not go too hard on the light gear. A few minutes later Jeff had rid himself of his nemesis mutton bird and placed the net under what turned out to be a respectable 10.5kg Dhufish, my biggest at this particular nearshore spot. Unfortunately for Jeff it was the one and only fish for the day but that's fishing, sometimes luck just isn't on your side.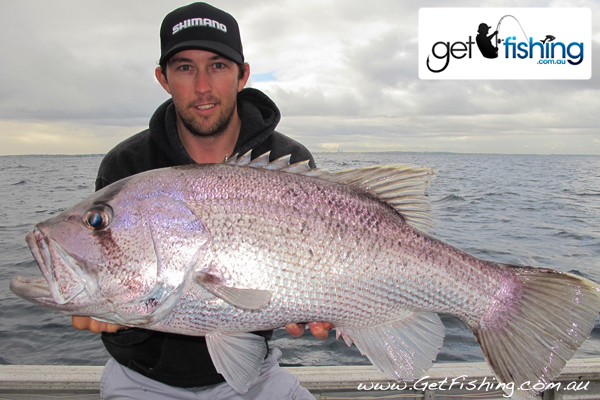 The author with a 10.5kg Dhufish – 31 March 2014
By Robbie Riches – Get Fishing Founder and Managing Director