Southern Bluefin Tuna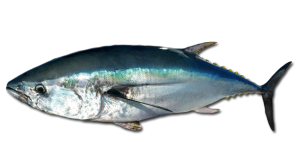 How to target
When targeting Southern Bluefin look for feeding schools on the surface or schools of bait in 30m of water or more. Once you've located feeding fish troll past them with bibbed 3-5m diving lures. If you've located bait, troll past with 4-5" skirts, with a trolling speed of 6-8 knots. If the fish aren't taking trolled lures, start cubing. Send down artificials such as 110mm flick baits and other soft plastics or salt water fly if you're that way inclined. If the fish still aren't striking, especially if they are down deep, send down cubes of pilchards/mulies.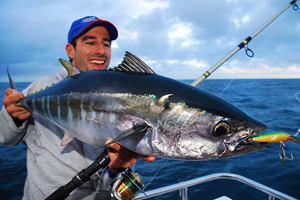 Rod & Reel
When trolling for fish up to 30kg, go for a smaller outfit. An example would be a TLD 10-15 size reel matched with a Shimano Backbone 10-15kg overhead rod or similar, around 5 foot in length.
For casting, go for a high quality Shimano 5000 or Daiwa 4500 sized reel, loaded with 30lb braid, and matched with an 8-10kg spin rod 6-7 foot in length.
If targeting larger fish you're obviously going to need heavier, high quality outfits. Talk to an expert at your local tackle shop for advice.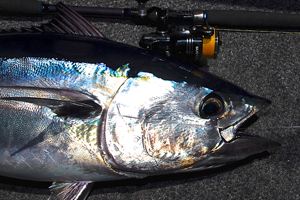 Line and leader
Trolling: 50lb braid or 10-15kg mono mainline. 3m, 80lb, hard-wearing mono wind-on shock leader.
Plastics: 30lb braid and a 3m, 40lb, fluorocarbon wind-on shock leader.
Terminal Tackle
Cubing: 8/0 Gamakatsu black Octopus joined un-weighted to a 60lb fluorocarbon leader.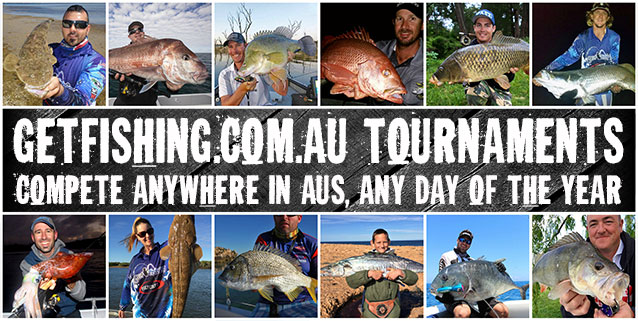 Best Lures
Skirts: 70g jetheads in blues, pinks and purples.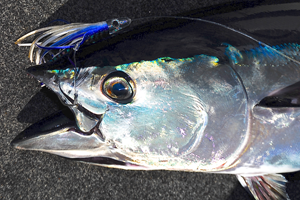 Best Bait
Pilchards/mulies
Hints and tips
Southern Bluefin tuna are generally caught well offshore in Australia's southern waters between WA and NSW. Anglers locate them by visually searching for feeding schools or large schools of bait. They are targeted with a variety of trolled and artificial lures, or by cubing.
Keep an ear to the ground amongst locals and tackle shops as to when schools of fish have arrived and their whereabouts.
Look for diving birds and baitfish as indicators. Target them with a variety of techniques until you find what works best.
When trolling, cover a range of depths >30m and run a spread of different sized lures.
It's best to bleed tuna immediately. Insert a short-bladed knife through the main arteries, located approximately two inches behind the pectoral fins. Keep on ice.
Rigging for trolling
One of the more productive ways to catch Southern Bluefin is by trolling. Join your 50lb braid or 10-15kg mono mainline to a 3m, 80lb, hard-wearing mono, wind on shock leader with an Albright knot or similar. At the other end of the leader use a stainless crimp to connect the lure, or hook in the case of skirted lures. For skirted lures, insert the mono through the lure head and add 5 or 6 small plastic beads as spacers before crimping on the hook, so that the hook sits just within the limit of the skirt.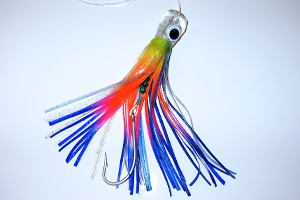 Rigging for soft plastics
Targeting Southern Bluefin by trolling enables you to cover more ground, but if you come across schools of feeding fish a more exciting way to target them is on spin gear with soft plastics. Join your 30lb braid mainline to a 3m, 40lb, fluorocarbon, wind-on shock leader with an Albright, Double Uni, or similar knot. Tie the other end of the leader to the jig head and thread on the soft plastic. Either pull up next to a school and cast plastics at them or drift the plastic down a trail of cubed pilchards.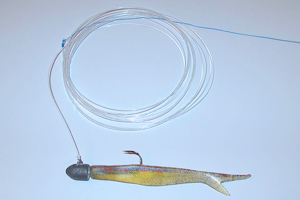 Click here for more Information On Southern Bluefin Tuna
Information courtesy of Jamie Crawford, Port Lincoln SA and Department of Fisheries WA. Photos courtesy of Jamie Crawford and Rock Wyrsta, Sydney NSW (GTpopping.com).